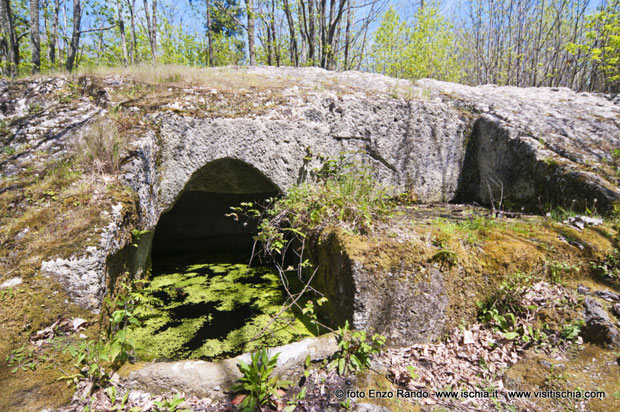 No wine-making plant of stone or brick was founded in Greek colonies in the West, insomuch as it was assumed that in Ancient Greece and Sicily were used wooden instruments.
One of the few examples of areas dedicated to the wine production was found perhaps in Ischia in the village of Punta Chiarito, dated back to the VI century BC where a stone oval bowl shaped was brought to light. There are numerous traces of rural hand-operated winepress dug into the rock dating back to different times.
The lack of finds and excavations on graphical layers makes difficult the chronological classification of the structures used for long periods of time. The wine vats of Ischia in the simplest cases consist of two rectangular tanks, one where one puts the grapes, communicating through a hole (soft wine vat) with another tank dug further down the juice flowing.
Other wine vats, instead, have three tanks, two elevated and symmetric communicating with the third tank lower. The element that stands out in these structures is a small hole in the corner of the upper basin called the "chapel" where a wooden supporting pole was caught at its end a large stone (stone torch) which was used to overpressure marc from which a light wine obtained after fermentation (saccapane) was used as a drink during working hours spent in the vineyard. These structures have been used up to fifty years ago, despite the advent of the winepress.
The entire central region of the island of Ischia is dominated by Mount Epomeo characterized by wine vats dug into the tuff blocks and detached from the mountain, some in the Falanga wood at an altitude of seven hundred meters, others on the west coast in Cartaromana almost at sea level. Certainly the most impressive is probably one of the oldest, used in different eras, is exactly what of the Falanga wood. Insufficient researches on the dating of this structure that is similar to others found in Calabria and Sicily.
The presence of wine vats inside the Falanga wood is linked to a time when the vineyard occupied the place of the today chestnut trees. The rural human settlements of Ischia, the "stone houses", dug into the tuff boulders and fallen from Epomeo, the cellars dug in the rock, where the wine is still preserved, date back to the XV century, and today constitute the rural architecture of the island that must be defended and enhanced.
The economic history of the island of Ischia since 1965 has recorded the most profound changes of address. The natural resources of a landscape highly qualified, incorporated into a spa-balneotherapy of considerable magnitude, were the preconditions for a rapid development of tourism activities that from service sector is now primary economic activity.
Invaluable goods of a thousand-year-old viticulture were sacrificed on the altar of tourism without identifying the social, cultural, and economic values that were protected, preserved and promoted to support even a tourism of quality.