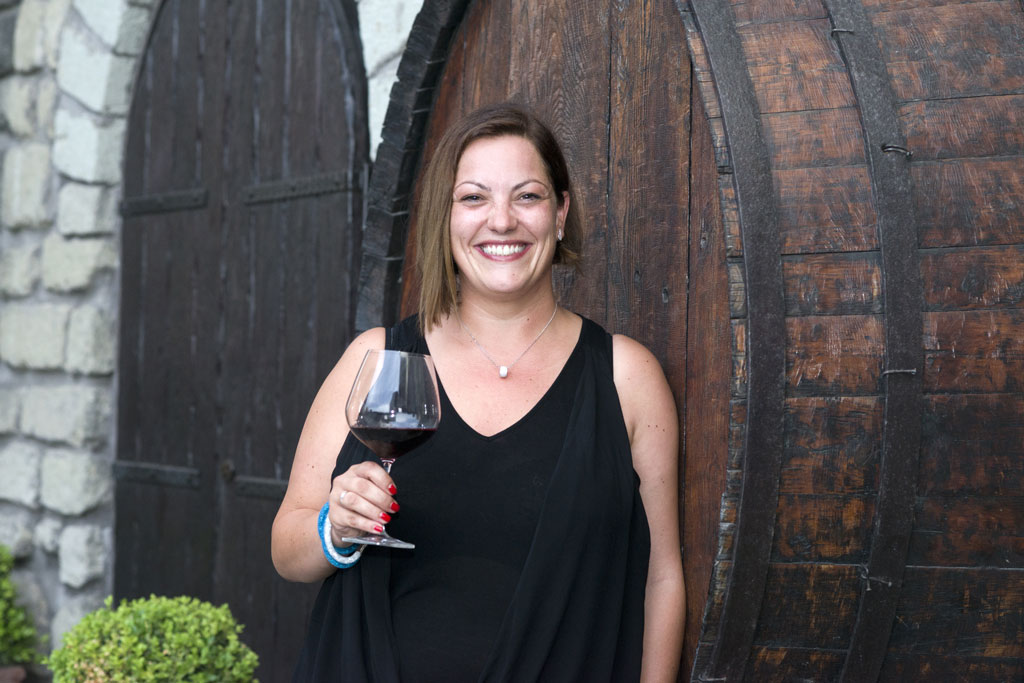 Lucia reads the score of enology with great skill. She explains and reflects. Wine is like a melody of notes made from aromas, sugars and tannins. Notes that only a few have the gift of knowing how to shape. The oenologist is a master who directs, assembles and creates. He reads the territory and interprets the needs of nature, folds cold and warm under the touch of knowledge and sensitivity, knows his vines one by one. There is no recipe or manual to create a wine that can teach this cryptic alchemy, but only great masters who direct their own music.
An impressive mass of tufa gives rise to La Pietra di Tommasone, a company of Lacco Ameno, who for five generations honors the Ischian viticulture. The vine story dates back the end of the 19th century, when Pietro Monti, the forerunner of enology, begins to produce and sell bulk wine when still the use of glass was not at its height.
The family tradition is interrupted in the 1980s when the death of Grandfather Tommaso leaves an unmistakable void in the heart and in the vineyard. Antonio, Tommaso's son goes to Germany to pursue his great passion, the other great love: catering. Antonio starts with a regret. The abandonment of his father's vineyard. In 2009, something happens. Antonio's older daughter, determined to pursue the dream of grandfather Tommaso, moves to Ischia. Therefore, in 2009, the family vineyards begin to ripen and the vats foam under Lucia's daring touch.
Grown up in Germany between pots and stoves -Lucia Monti- likes catering immediately, but feels to love wine, a passionate love to influence her studies and her life. Young Monti studies farmland in Nahe, wine region 200 kilometers from Cologne, the place where she was born. Lucia gest out of practice and theory for two years. She completes her training course and after a year of specialization in enology, she decides to leave. She arrives at Italy, Ischia.
Lucia has studied in Germany, in a very different climate from the island one. Thus, the young oenologist is forced to remodel everything she has studied, to adapt her oenology to a new territory, a place where the laws of nature rule differently.
In Ischia, the vineyards are impervious, but Lucia is not scared, she is a veteran of heroic viticulture. The German wine regions have very strong slopes, extreme conditions aggravated by the absence of terraces. What changes is the climate. Lucia used to selling with mittens and woolen cap and producing German Ice Wine (iced wine) at a temperature of -10°, is now facing heat and drought. A heat that reaches 30° in the harvest.
Used to handle Riesling and Pinot in water-rich soils that give the grapes very strong acidity, Lucia now has to deal with Biancolella and Forastera in droughty and greedy soils. Thus, scorning her own habits in life as in the cellar was not easy, but Lucia thanks to her tenacity and with the complicity of time learned to know and to love the vineyards of the island, vines capable of expressing, like a few others, elegance and minerality. Today, the wines of La Pietra di Tommasone evoke, sip after sip, the territory and are soaked in subtle sophistication that the feminine touch cannot avoid giving.
Monti's homemade wines are so many, but production is mostly concentrated on Biancolella and Forastera. It is with Biancolella that Lucia delights to show off all her vine savoire faire, offering different interpretations, always original. In the world of whites sparkles the Tenuta dei Preti, a vine of 1, 3 hectares that gives a refined Biancolella. Grape harvest, slightly late, highlights the smell of raisins, while 500lt oak fermentation and consecutive refinement gives wine more evolved butter and wax characters. A wine to drink on great occasions.
The incredible eclectic nature of the grape variety confirms its versatile nature in Ischia Biancolella Doc, a delicate and elegant wine with its distinctive almond and unmistakable freshness. A wine that sees its ideal conjugation with the Ischian Rabbit.
Knowing a vine and experimenting with the various declinations is an art that Lucia knows well and in the name of her curiosity that has been launched into a new project. In short, it will be possible to celebrate the first Classical Method produced on Ischia Island. In fact two. A rosé sparkling wine, from Aglianico grapes in purity, and the Ischia Bianco Doc 'Spumante' a blend of Forastera and Biancolella. Two méthode champenoise wines very complex, resulting in two years of refinement sur lies.
Tenuta Monte Zunta is the last creature of La Pietra di Tommasone. An incredibly elegant wine, a material that tells the story of true clos. Clos in French means closed, delimited and refers to isolated vineyards that differ from all others for unique and un-reproducible features elsewhere.
This vineyard rises at the southernmost area of the island, at a height of 450 meters, overlooking the village of Sant'Angelo magnificently over 450 meters high. In these 3500 square feet of paradise, the Tenuta Monte Zunta wine is born. The soil is very light, sandy and allows for good drainage. In the alchemy of wine, this results in refined scents and an extraordinary richness of palate pulp. Thanks to the favorable exposure - completely to the south - the Cabernet and Piedirosso grapes grow well, without the risk of diseases due to the sun that radiates vines from dawn to dusk and to the sea breeze that constantly dries the grapes. The elevation in French oak barriques makes soft tannins releasing nose notes of chocolate, pepper and currants. A salty wine with great minerality and high acidity, rich in alcohol and incredibly persistent, make Tenuta Monte Zunta a great wine.
So Lucia with her enology made of foresight and experimentation teaches us the difference between a well-made wine and a great wine. The first one is silent; the second has something to tell. It speaks of its own territory, it tells of the vines of origin, but above all leaves imprinted in its mind the impression of those who imagined and then created it. The wines of La Pietra di Tommasone are great because in a sip they can express all this.
By Roberta Raja