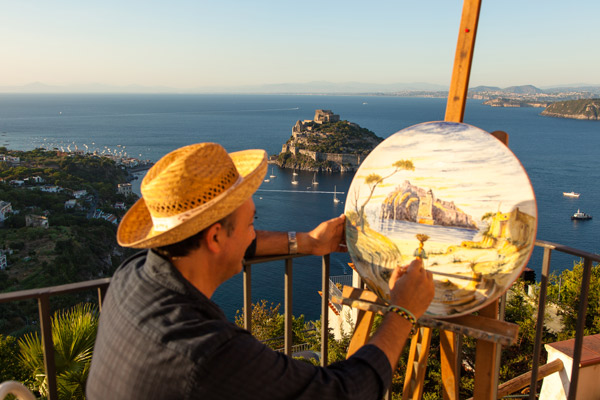 Among the many treasures that Ischia keeps, there are some craftsmen who create their works with respect and passion and that is nice to go to find out.
In Campagnano, for example, the street runs along the hillside up and down offering an unsuspected panorama, which opens onto the Castle and the Bay of S. Anna, Vivara and Procida, Capo Miseno, Vesuvius and the coast that the clarity of the day offers. Narrow street, where cars are crossed with difficulty, and old houses cling to the hill. Here, halfhidden in a recess, there is an ancient cave, closed by a large window is the "showcase" of the ceramist Rosario Scotto of Minico.
Rosario is a kind and available man who seamlessly makes you climb up there to his lab, where, with ancient wisdom, produces and paints his ceramics, all hand-made. Interweaves thin rolls of clay to make applique that recall old baskets or soft fishing nets, paints with grace and elegance sacred and profane images on panels of various sizes, also has fun with small objects: keeping alive, in short, that this ancient art for so long it has been a resource for the island. If you look around the island and you see a beautiful ceramic banner, a panel painted with grace and skill, you most likely will find the unmistakable mark of Rosario: the stylized castle that contains his name. But someone else is having fun with the clay, the other side of the island. In Piazza Marina in Casamicciola, twins Mennella, Giuseppina and Francesco, produce for ten years, "Fischi d'Ischia". With the taste of the game, a bit of imagination and taking into account the suggestions of friends and customers have transformed a simple adage: "In Ischia you eat, drink and whistles", creating an original horns and whistles shaped funny and unlikely. "Whistling was always a joyful place, a sign of good humor - argue - and good humor wants to be the main feature of our activities". So they have fun while they work, and tear smiles and laughter amused tourists not only with the forms of these lucky objects, but also with the motto and the instructions that accompany them superstitious.
Another craftsman greets us with a smile and wealth of its production is Mario d'Ischia, in Corso Angelo Rizzoli in Lacco Ameno. In his boutique you can find clothes and beachwear in natural fabrics, but they are mostly sandals, made entirely by hand, he prepares customized items, on request, to represent that aspect crafts still alive on the island. Leather, trimmed with coral and turquoise dust, semiprecious stones or woven fabric, simple or elaborate, elegant and delicious, band, in flip-flops, model Capri and Positano, heeled or flat ... there's something for all tastes! What unites these people is the plea- sure, the passion and imagination that put into their work, and that is clearly evident in a meeting with them.