LIMITED TRAFFIC ON THE ISLAND

Starting after Easter (usually in April) until the end of the summer months are prohibited the influx and circulation of vehicles on the island of Ischia, motorcycles and mopeds, belonging to persons resident in the territory of the Campania region and conducted by people residents on the territory of the Campania Region except those ones belonging to the stable population of the island.
For futher detailsclick here.
EMBARKATION POINTS
Those who have instead allowed to board the car can reach 2 ports of embarkation, to Calata Porta di Massa and Pozzuoli (both with Caremar and Medmar departures).
Starting from the port of Calata Porta di Massa (Naples), the ship takes about an hour and twenty minutes, not counting the stopover to the island of Procida, which if carried out, the trip may last an hour and three quarters. From the port of Pozzuoli, the ship takes an hour, though with a stopover at most an hour and a quarter.
DIRECTIONS TO REACH THE PORTS OF PORT OF CALATA PORTA DI MASSA AND POZZUOLI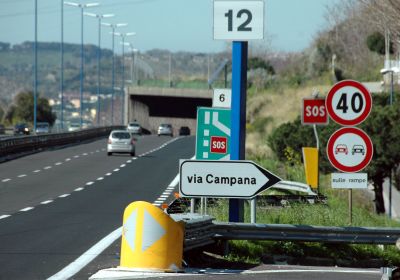 When one reaches the exit of the motorway (A1), to board the car from Pozzuoli to Ischia, will be convenient to take the Naples ring road and proceed towards Pozzuoli until the intersection of Via Campana. Then follow thedirections to reach the ports of port of pozzuoli, or, (recommended choice) continue on until the exit "Scali Marittimi, o Napoli porto", if you are in possession of the booking (recommended choice) one can access to the port directly from varco Bausan completely avoiding the city traffic and following the Directions to Calata Porta di Massa.
Other gate access to the port of Naples is Varco Pisacane that from Via Marina reaches Calata Porta di Massa with dedicated access and parking areas.
SECURE PARKINGS AT NAPLES AND POZZUOLI
For those who want to leave car in Naples, it is possible to park it secured parkings and embark by hydrofoil from Napoli Beverello or by ferry from Calata Porta di Massa.
MARITIME TIMETABLE
The schedules in force of the shipping companies are printable (recommended before leaving), but they are subject to change.

For further detailed information on the way please viewwww.ischiamap.it.