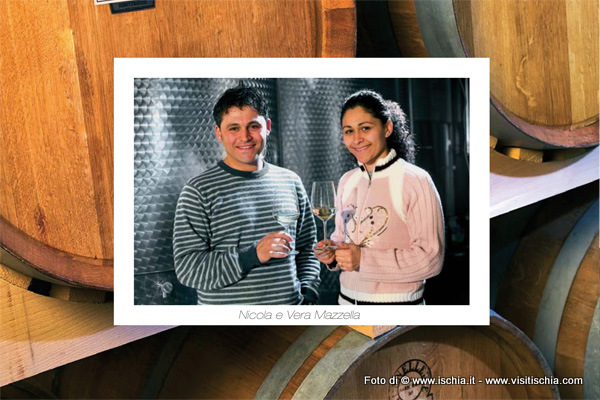 Ischia land of sun, sea, nature, colors; Ischia fertile soil for growing grapes and producing wines that you do enjoy and appreciate, not only in our local ground.
The Wineries Mazzella, in Campagnano have always been synonymous with commitment, sacrifice, perseverance and passion for the screws and its precious fruit: the result can only be a wine of the highest quality ever wanted even outside the Italian boundaries.Nicola who we meet on a rainy morning in July, talks about that is a real family tradition started by his grandfather; in fact, their winery, founded in 1940, was carried forward by his father Antonio to water the villagers with simple table wines.
So three generations, and a past full of sacrifices and commitment: this is the story of the wineries Antonio Mazzella "the company in 1991 comes out with the first Doc, Ischia Bianco, then turned to Biancolella and now 'Vigna del Lume'. The entire vineyard property is dedicated to the vineyard of 'Vigna del Lume'. The company currently produces about 100,000 DOC bottles a year and from 30 to 50000 table wines".
The Forestera and Biancolella in purity, basic, are the exciting and solar expression of these two vineyards of Ischia.
One on hints of yellow fruit, juicy and crunchy, tasty and refreshing; the other with a more floral note and Mediterranean maquis. The Mazzella family also buy grapes from 45-conferrer islanders who always offer a product from one year to the highest level.
Among the reds should be stressed without doubt the Ischia Per e Palumm: a piedirosso to drink, rich in red fruit, fresh and savory. Lovely in its simple design, so rare to come across.
Vigna del Lume, Villa Campagnano and Villa di Levante are also 3 other real jewels of Casa Mazzella.
The Nero 70, says Nicholas, "was designed and produced for a 70th Company and is now being produced in every year in which it is possible for the favorable weather conditions, it is in fact a late harvest, so the grapes remain on the vine until the third week of November and then be crushed pressed allowing the production of about 1,500 bottles a year": a surprising wine: rich, yet not heavy, rich notes of pepper and ripe blueberry.
The fundamental choice is the Casa Mazzella bet on quality: "we would need even more important because the wines produced in mid-September are completely sold out and we are opening up more to foreign markets having already orders for next year both for Germany, America and the Netherlands. To be sure that next year will be foreign and even if we do not have much product we tend to centralize in other markets to let us know; certainly not because we are expanding beyond these bottles tend greatly and exclusively to the quality that today is the only way forward from my point of view.
This year we have also begun to participate Wine Competition and immediately we received two major state in the Vigna del Lume and Villa Levante while the Villa of Campagnano was not ready yet so we have not been able to send".
We ask Nicola to illustrate the specific peculiarities of the Vigna del Lume: "It is essentially an Ischian Biancolella of Grapevine born at 30 mt. from the sea, the distinction lies in the fact that is aged from 15 to 20 days, so there are very pronounced notes of ripe fruit; is a product that is very soft in the mouth and at the same time with beautiful acidity and iodine and the sea offers these notes that are highlighted by all who pass here, an almost salty sea that gives us a special really important, therefore, that comes out.
The Villa Campagnano is instead a blend of two grapes, Biancolella and Forastera, but the peculiarity is that they are joined together in winemaking and fermentation takes place in new barrels, not in chestnut barrels but in those of oak; once all is fermented in stainless steel and batonagge and remains with the lees are removed continuously, every other day for the first few weeks, to give fullness and body build, all this from late November to late May: this year has been bottled in early June. It is certainly a wine very full, very different from the canons of Ischia, however, working with passion among the vineyards and cellar where it is possible to make things very very nice".
Nicola also reveals to us an important novelty of this year: "we're going to come out with an organic Biancolella managed by a company that has a half acre of vineyards, both white and red, then this news will follow this line in which we believed from the beginning and this year the test will consist of approximately 2000 bottles, plus we have two thick ready for lands to clean up, fix up and bring to a vineyard, it will take time, it will take years to actually fix them".
Unless of care required the company to the maximum limits treatments to offer products that are the expression of a naturalness and authenticity without comparison. It is an island that works that one we face. There is only one wine cellars Mazzella who do not deserve to be explored. There is nothing that does not make you fall in love with the precious fruit of the vine. Go and find it.
Cantine Mazzella
Via Campagnano, 2 – Ischia – Tel. +39081901541 – This email address is being protected from spambots. You need JavaScript enabled to view it. – www.ischiavini.it