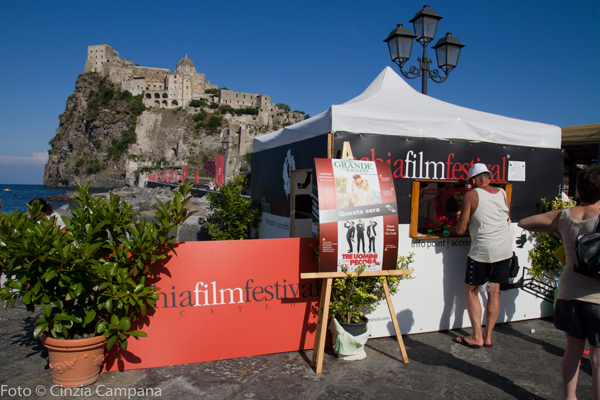 In the XVII edition, the special section of short films dedicated to collecting, which takes care of the rights of the actors, starts.
Ischia Film Festival and Artisti 7607, an almost natural combination, given the interest that the festival co-directed by Michelangelo Messina and Boris Sollazzo has always placed in the actor's work. John Turturro, Carlo Verdone, Jean Sorel and Claudia Cardinale, this year the already announced Michele Placido and Valerio Mastandrea, are just some of the great performers that the festival has awarded during its seventeen editions.
Artists 7607 is a collecting founded among others by Elio Germano and Claudio Santamaria, which intermediaries the rights of the actors, known or less known, in the first or long-running steps, collecting and distributing the proceeds of their image rights (related rights to copyright) and promotes various training and support activities for interpreters.
This year Ischia Film Festival has decided to dedicate a special section of short films directed and interpreted by artists who have decided to be protected by collecting 7607.
This is the list of selected works:

FUORI CONCORSO - CORTI "Out Of" 7607
"11" (Italy, 2019), by Piergiorgio Martena
"In the bear" (Italy, 2018), by Lilian Sassanelli
"Non è una bufala" (Italy, 2018), by Niccolò Gentili and Ignacio Paurici
"Partenze" (Italy, 2018), by Nicolas Morganti Patrignani
"Si è sempre fatto così" (Italy, 2018), by Alberto Basalluzzo
"Il viaggio di Sarah" (Italy, 2018), by Antonio Losito

A varied selection, ranging from the story of an Italian girl who just moved to Berlin by In the Bear by Lilian Sassanelli, to the contemporary paranoia of a very good Pier Giorgio Bellocchio, directed by the Gentili-Paurici couple of Non è a bufala. The grotesque is a stylistic code with which even very serious things can be told, such as the one that a woman's body still suffers at the moment of birth. Alberto Basalluzzo succeeds very well in this way. The choice of a woman, although completely different, is also at the center of Partenze, by Nicolas Morganti Patrignano, and always the feminine are The journey of Sarah by Antonio Losito and the ever-present 11 by Piergiorgio Martena, story of a soccer player at taken with a penalty kick that is much more important than a simple goal.
The seventeenth edition of the Ischia Film Festival will be held from June 29 to July 6 2019, carried out with the contribution of the Ministry of Cultural Heritage and Activities - Directorate General for Cinema, the Campania Region, the Municipality of Ischia, and with the support by Campari, BPER Banca, Artisti 7607 and Mini.
Events of Ischia Film FestivalIschia Film Festival