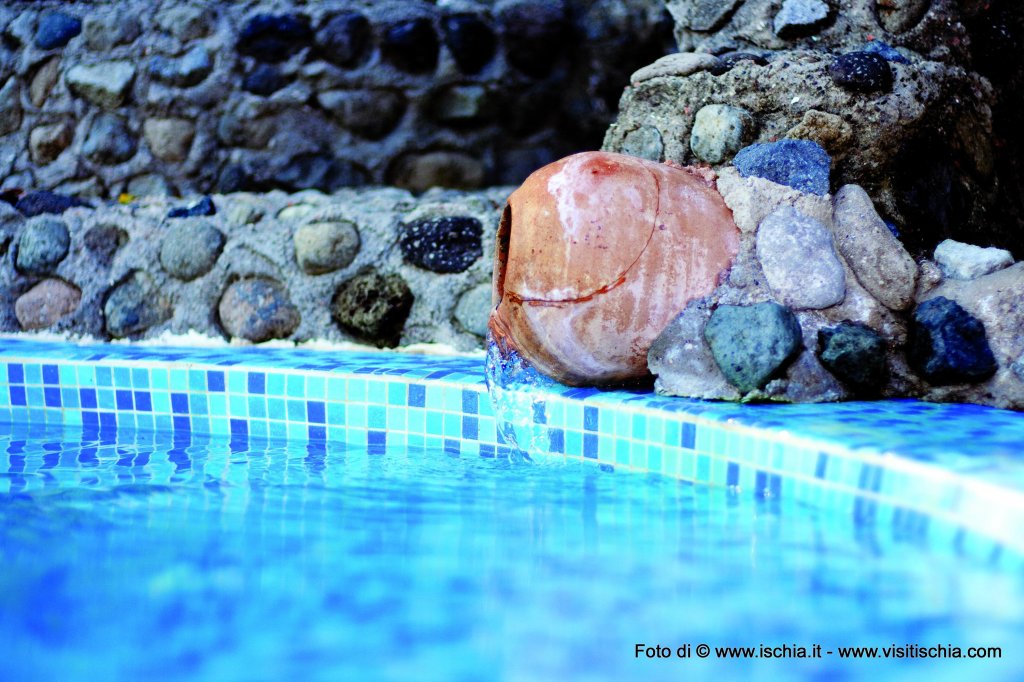 A small park, a kingdom of harmony and peace, a place of unparalleled beauty is hidden in a secret place on the island of Ischia. Hard to find, almost as if it would be undisclosed. However, we did it, and in front of our eyes revealed in its entire splendor. O' Vagnitiello, Hydrotherapy Park located in Casamicciola, offers beneficial spring waters, whose origins are lost in the mists of time.
No coincidence that they are linked to a legend that tells of an ancient inhabitant of Ischia, Acmenio who was transformed by Jupiter in spring after invoking the gods for help after falling into a river. Jupiter gave him so the power to relieve and heal with its waters all the diseases of the poor and especially the suffering of earache, because in this place no one has heard the distress of young Acmenio.
Even Pope Innocent III in 1691 took advantage of the therapeutic properties of the waters of this place because of a serious fall.
The park consists of five pools including one for children and all at different temperatures, a natural sauna and a Jacuzzi pool. They are set on the terraces gradually descending to the evil and surrounded by lush vegetation.
Moreover, if the pools are not enough you can always take a dip in the sea, accessible by a convenient one-step ladder. In addition, from here, without even a dip, as provided with an invisible diving mask, you can see, among rocks, sea anemones, algae and some sassy little crab.
The property is accessible by sea, thanks to a small boat service that will pick you up directly from the point of your mooring. In this oasis of peace, for the well-being is also closely related to what we eat, and could not miss an area reserved for food lovers and good food. In fact, the restaurant is an appointment to which you cannot escape: here you can enjoy dishes based on fish: paccheri with mussels and zucchini, and bruschetta "of the Captain" that has become a real must.
At dinner, booking is advisable.
Adjacent to the restaurant is the cocktail area, to consume snacks and drinks throughout the day.
In addition, if you want to rest to cure the idleness of the table and body, not missing a small outdoor space dedicated to fitness, perfectly integrated into the environment.
In addition, for those who do not want to go away from this enchanting place the structure also has cozy rooms with sea views.
The hotel provides guests with convenient shuttle round-trip to the main road from the park entrance.
In any case, it will be only a goodbye, because it will be difficult during the long winter months that thought does not come back on those moments lived in this true paradise with a desire to return.