TO MOVE FROM NAPLES TO ISCHIA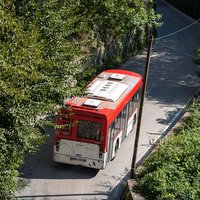 The city is easily reachable by any means of transportation. The fast local, national and international services are free of charge and guarantee a good supply system.
Naples has three stations:
- Stazione Centrale di piazza Garibaldi, to the East of the city; the port is reachable by taxi, bus or tram from the adjoining square, the bus departures to the port occur every 10 minutes, while for tram every 15 minutes.
- Stazione Mergellina, at the homonym port reachable on foot;
- Stazione Pozzuoli Solfatara, in the upper Pozzuoli, 900 mt from the port, reachable by bus. Click here to see bus times and routes
Info: tel 89.20.21 operating throughout Italy from any fixed-line telephone and without prefix(Freefone 800639525).
The links from the province of Naples are served by the Circumvesuviana (Freefone 8000553939)
For the public services of the city of Naples, view the web pagesCpt - Anm - Sepsa - Sita
EAVBUS ISCHIA TIMES
Bus times and routes on the Island of Ischia and in Naples.
In winter 2018 - 2019In spring 2019In summer 2018In autumn 2018
The Editing of Ischia.it is not responsible for any changes or suspension of routes.
The new spring timetable - 2019 is online, it's effective from april 10, 2019.
For the schedules of the public services of the city of Naples, visit the site www.ctpn.it
For information on available services (traveling with animals, traveling with children, traveling by bike, etc.) of public transport, refer to the EAV Bus Mobility Card
From January 1st 2015 will come into force the new travel documents