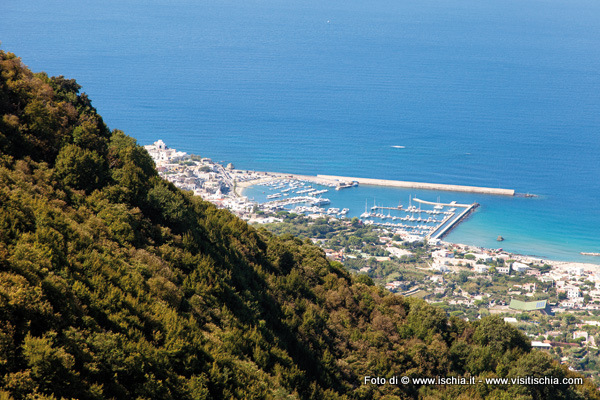 I do not have family brothers, but Michele, the "Bracconiere", is my brother. He taught me - after the immature death of his real and unforgettable elder brother Salvatore, a pilot of family and activity, as well so he's younger than me - to look away, to look ahead, to look, if not the sky, at least in front.
With Michele, above the "Bracconiere", "maybe you're a bit fatter…", "winter, and meatballs by grandma Titina", and, if anything, in those late mornings in early spring when the work of the restaurant is even more discreet, and the White wine can still delay to winter in the fridge, and Franca and her sister Carmela, widow of Salvio to work in a kitchen serene rhythms, I learned a geography did not know, in Ischia. Even less in the feelings of the heart. Above Serrara after Calimera, atop a rise that is brand new show every ramp, although gentle switchbacks true there are none, poor cyclists who venture, but the Wall of Huy, and brooms not fill the thirst; after Calimera, what a beautiful morning, and before Frassitelli, there is the amazing balcony of Ischia. With Michele, "I picked fresh oregano this morning ...",
I learned to combine the view of an island without women that is the most beautiful woman. A mother. And an immense silence. And I understood, it has been certain that even his great sorrow that made a man my friend when he was only a teenager, that there are an infinite number of good morning, even when they appear finished in life. Before Frassitelli, long before Falanga, to continue in, "you have you ever seen the graves for the ice, you get to the Stone of Water", and then you might as back, after the fairy forest, "have you a fairy?", to Epomeo, to the Hermitage of San Nicola. But the sky, and a story, the magic land of an island and a person can do even without top center three-quarters of the coast, there on the square in front of the "Bracconiere". There, you can pull the handbrake. There is, in fact, to look back. You can sweep up, while Faustino and Marco, Giovanni, Pasquale and Beata, Fabrizio and Leonardo, develop foreign diners and local tastes, you never turn back. Back it goes nowhere. In life, as in Ischia, and within us. "At the top, you see, that's where the Hermitage of St. Nicola, let's hope they reopen soon, were there ever been eating from Luigi? ...».
Already, that Spartan innkeeper seemed more hermit than Giorgio of Bavaria and John of Argouth and other Flemish monks, he and respect for those makeshift shelters, out of a painting by Bosch, for the avid hiker of loneliness, of Stone and St. Francis. But from the top, the daring flight of the hawk was still an invitation to Michele, from literary "Bracconiere", to look before. The cliff, the vertical descent without brakes on Forio, Panza, Santa Maria al Monte, "but how do we get there?", "with the courage with which arrive, if you have one, to Pizzi Bianchi…".
But there is so much religion just to get there, like to a love too loved? And far away, "there is far away, in the life of a man, nothing, if not the end", Ventotene, Ponza, the immense sea, to those of us that three-quarters of the coast and the wooden balustrade remain tenaciously entwined, for fear of the precipice. In front, we are on the edge of Ischia. Behind, nothing makes sense nor the future, nor of fate. "When the sun goes down here, and it's beautiful, the sun burned down, goes down on Aurunci, those mountains hills that look down there, do you see them?". "But you do not know, however, what it means to see dawn, the sun born, seems you reborn and those who are not, from above". It is the center, the zenith of life, the dawn. Although it is still early for white wine. And it is still late, I know, in and out of us, for a better morning. It will be, without further sunsets, for another less short day.