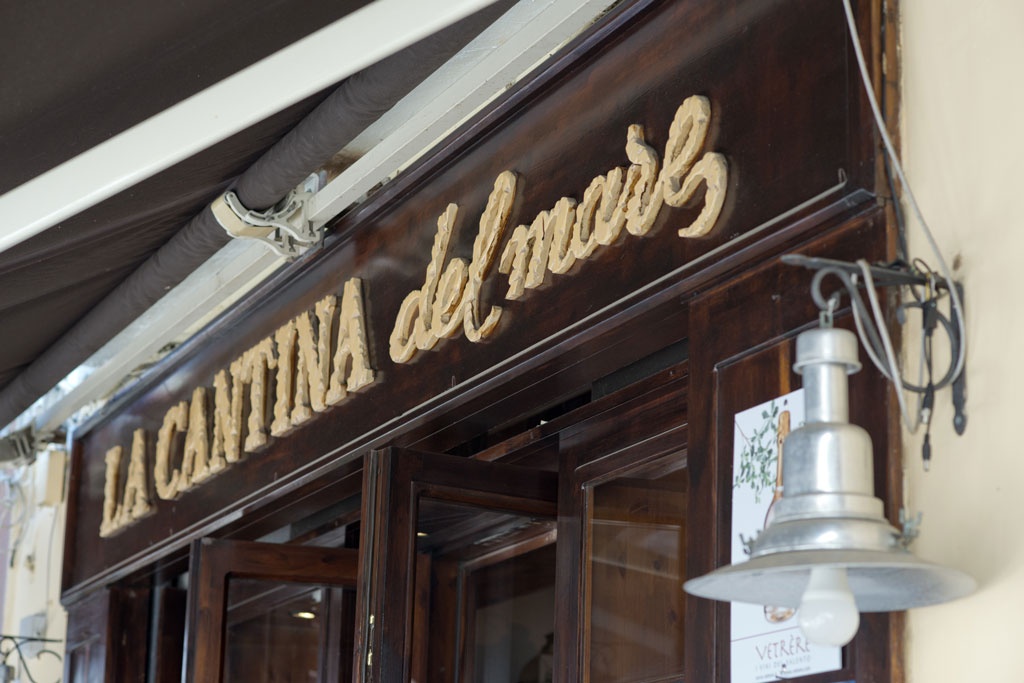 I meet up, one evening in Lacco Ameno with Patricia Gialloreto and Pierpaolo Iovinelli. He in a crisp white shirt and blue jeans sporting a natural full beard. She wearing a colourful dress that highlights her blonde hair and fair complexion. Partners in life their story was born of pure chance or due to a combination of choices. La Cantina del Mare is a harbor. A romantic place where people come and go. Born out of a magic combination of dreams and the mission to bring people to Ischia to marvel at the sea, the walking paths and the incredible panoramas. La Cantina del Mare is a place where you can get comfortable and savour the wonderful food or use as a jumping off point for new experiences or even to find love, like them. English, French, or Swedish, languages intertwine and mix with the sound of the clinking of glasses that are the soundtrack of relaxed good times.
Nino, the front of house manager oversees everything providing a unique ability to make all feel welcome while Marilena keeps a watchful eye on all the clients and also offers suggestions to make the dishes served truly special. Martina, the leader and daughter of Pierpaolo, checks that everything goes on for the bes. Our conversation moves effortlessly from the dishes of the Cantina to future projects and ideas. The menu intertwines the excellence of the local dishes with the constant search for refined, pure flavours. It is the restaurant that Pierpaolo always wanted. In 2001 he returned from London to Naples to work for a business linked to the NBA. But his destiny was to follow his intuition to Ischia to bring to life his project as an international host. He stubbornly overcame the initial obstacles, and today the Cantina hosts actors, fashion designers, and entrepreneurs. Russians, French, Americans, English, Bulgarians, Swedes and Australians desirous of experiencing the traditions of the island but interpreted with elegance find their place at La Cantina del Mare where they return year after year. One can find oneself sitting next to the Canadian producer Paul Haggins, or at the same table with Hannah Jos Olsson, Swedish but living in Bejing. Paige McCready Boer a San Diego fashion designer who is at home at La Cantina for several weeks a year. Of those who visit the Cantina, Pierpaolo and Patricia keep in touch with many and with others have developed wonderful friendships. When possible they leave the island and visit friends in New York, Los Angeles, San Francisco, and across Europe. Pierpaolo sees the Cantina as an "international universe nested in the heart of cozy Lacco Ameno and it is the guiding philosophy that myself and Patricia have discovered we have in common - Bringing people from around the world to discover Ischia and to build relationships". The Cantina del Mare is a place made up of open minded people who share experiences, ideas nested in frame of local traditions.
This conversations can't help but have us traveling back in time to the 60's when Lacco Ameno was the meeting place of the Hollywood jet set and even before that time Forio a mix of styles and cultures played host to musicians, writers and poets at Bar Maria. Every now and then Patricia and Pierpaolo enjoy a relaxing moment by the olive tree at the restaurant with a glass of wine but mostly they are off doing many things. She mixes irony with measured silences while he cannot hide the pride
he has for his projects, and as we are conversing the kitchen calls and Pierpaolo goes off to create in the kitchen. Patricia has half an hour before she needs to go to her signing lesson with Salvatore Ferraiulo. "I love music. It is a universal language like beauty, art, and I love to sing", her voice is lovely. She is thinking of picking up piano again and to write short stories - "I just need a bit of time to change life rhythms". Her father is from Pescara and her mother from Montreal. She met Pierpaolo one evening at the restaurant. "It was Halloween 3 years ago which was an unusual time for me to be on the island as normally I only came in the summer" hand of fate. From that moment they share passions and ideas. "Pierpaolo has always given me excellent advice" she says with pride. A person of refined composure like her tastes she loves the sea because "it is ever changing but always the same – it gives me space to think" as does the Cantina del Mare with its endless flow of people and their stories. A history and foreign languages major among other things she was a
middle school teacher in Canada. One day she decided to follow a dream to live the culture and language of another country. "It is not a matter of courage, I believe it is more courageous to stay in a place that you don't feel your own. Choices are made when they feel right." She sent her CV around and received offers in Japan, France and Italy. Wanting to discover her roots "at home we spoke English and French" she chose the dolce vita. She took a years' sabbatical and departed for Rome to work in an international school. It was 1995 and after various requests to go back to her job in Canada she decided to stay in Rome. She decided to dedicate all her free time discovering Italy: a weekend in Procida, Capri, the Amalfi coast etc. She changed jobs leaving teaching and began a career in market research working at a Roman research agency, Unicab, for 5 years – embarking on a new career. In her free time she continued to give English lessons to round out her salary to members of parliament. Deciding to change life journey once more this time the leap coincided with the 11th of September and the work market froze and all
interviews done prior did not yield a job. Resolved to not leave Italy and a firm believer in Plan B she sought other work that included translating web sites and being a receptionist at a spa. In the same year Pierpaolo invests in bringing to life his project. Destiny intervenes once more and she meets a high level executive at Algida's innovation center who asks for her CV. In a short time she finds herself immersed in an international innovation center made up of 62 people and 13 different nationalities. Four years later she worked on Knorr in Hamburg but decides to return once more to Rome after her 3 years were completed. She then moves to Lugano to work for VF International home of Timberland, The North Face etc. Her first visit to Ischia is only in 2012 – the island she had been looking for: far enough away but close to Rome and Naples. First vacation at the Regina Isabella and then the Reginella. The circle is completing itself and she decides to look for a home in Ischia. At this moment she meets Pierpaolo and tired of multi-national life she decides to leave that world with its stable salary. "I am always intrigued by people who want to grow and learn continuously who are willing to share their experiences". Patricia and Pierpaolo are looking to create a wine club in Lacco Ameno. A multi-dimensional space to celebrate local wine and culinary products. To talk of wine, art, savour music and fine cigars with friends. The future lies in a cosmopolitan sense of conviviality that speaks all the languages of the world experiences that are priceless.
By Graziano Petrucci