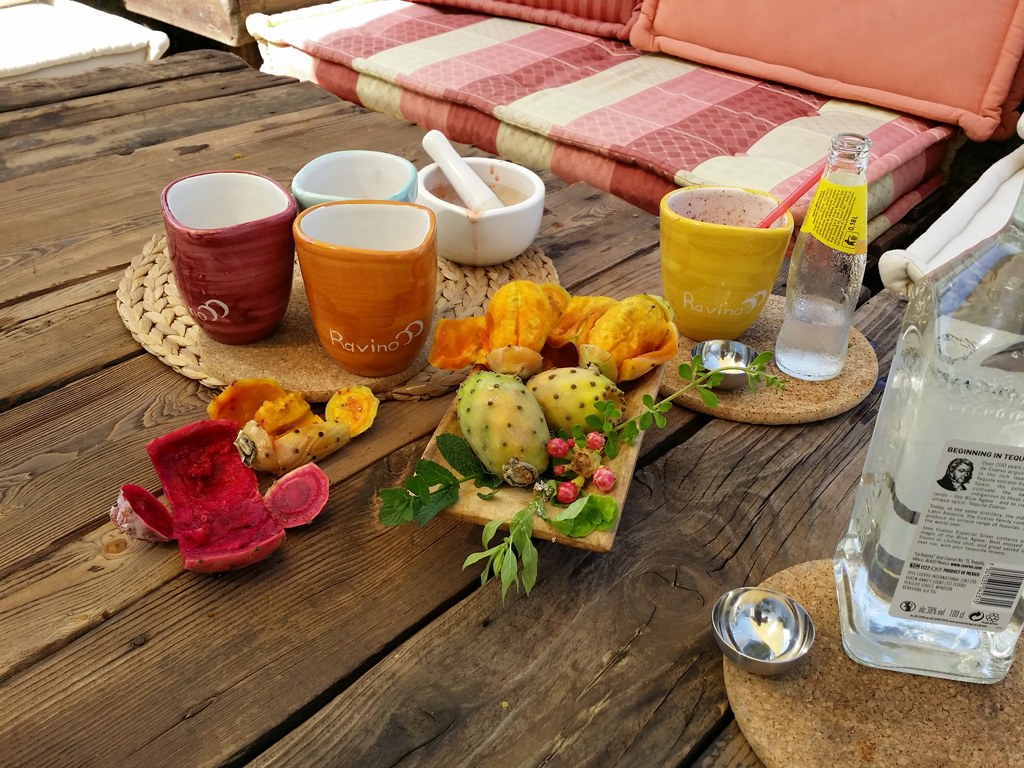 Every corner of Ischia is lovely, but some places are endowed with a charm, definitely, out of the ordinary. In Forio, for example, in the place of magic sunsets set Giardini Ravino, a botanical park with a thousand of exotic shades. Spread over six thousand square meters of soil, the over 400 species of succulent plants from all over the world adorn this beautiful garden of shapes and dimensions so spectacular to seem almost unreal.
There is an idea in the exotic heart of this garden. The Cocktail Lounge Cafè, a creation of Luca D' ambra, a place born to give continuity to the fruits that the land offers, philosophy expressed by the innovative Cactus Cocktail, Cactus-based drink ...
Lino prepares cocktails, using fruits with unmistakable names, in myriad shapes and colors. The availability of fruit changes according to the seasonal rhythm, imposing, according to the period, a composition, and a reflection, a different taste.
Elettra, the director of the Garden, collects a mature fruit - the Trichocereus Spachianus - commonly called Candlelight with Hair. Lino following a ritual, almost mystical, begins to prepare the Cactus Cocktail ...
To give aroma and freshness; three different types of mint are needed, each featuring a peculiar scent, pink pepper berries giving a spicy taste and, finally, the tropical fruit chosen for the cocktail. Fruits and aromatic plants are skillfully crushed in the mortar so that the essences are released. The structure is determined by the addition of Tequila, distillate obtained from agave, other succulent plant. To modulate sweetness and spread a touch of brilliantness, it is diluted with toned water. The result is a cocktail that blends the gustative perfection, which can be proven in its non-alcoholic declination.
The Cactus Cocktail is not just an original drink but is the result of the strange alchemy that surrounds this place made of unusual balances and mystical nuances.
Sipping a Cactus Cocktail means to get involved in all this.
By Roberta Raja