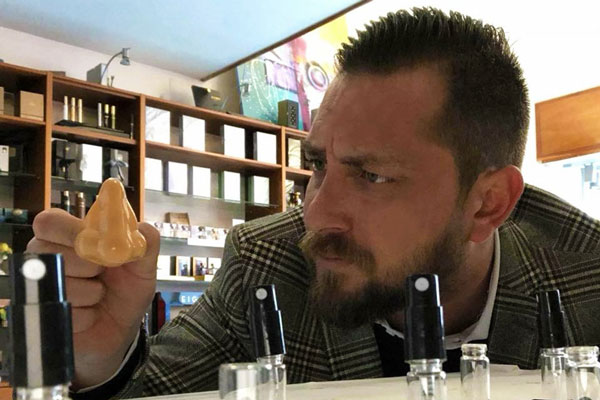 With him, we have the pleasure of exploring the world of artistic perfumery, or niche, a universe that preserves all a qualitative and creative apparatus that cannot be found in traditional perfumery.
Marco Varriale has now become one of the professionals and veterans of the sector in Ischia. His artistic perfumery Essence, over the years has been transformed into a meeting room for communication, exchange, friendship and education "in the art of perfuming".
Through his research and his perfumery experience, he managed to blend uniqueness, refinement and class in a natural and spontaneous way to give personality with an ideal olfactive solution.
Marco, how was your passion for perfumes born?
My passion is born as a child; I have always loved perfumes, smells. A perfume can catapult you into childhood memories, in a beautiful moment of your life; can remind you of a person ... I think it is a pleasure of the soul.
Your approach to perfume is decidedly artistic: you give great importance to the procedure and the result is often a unicum, born from the mood of the moment and from a certain situation, certainly far from the serial and industrial product. Can you talk about this your philosophy?
My view is that a perfume has no sex, has no time and is not fashion. We try to convey a concept that is to dress your personality with a fragrance, unique scents that can talk about us. Speaking with the customer, we try to understand the olfactory tastes by gender (floral, woody, sweet, gourmande etc), what he is looking for (a predator, sensual scent, a perfume that is a cuddle) and according to their state of mind, we try to guide them with a tailored olfactory journey.

Which fragrant creations do you remember with more pleasure?
My shadow is Black Afgano Nasomatto, an extract of essential oil from Afghan Ashish, notes of Oud, coffee and incense. A very oriental style, I do not lose the opportunity to wear masterpieces like Creed Aventus, totally different, woody, spicy, leathery, in the world of artistic perfumery is a best seller!
When I want a cuddle, I like to wear Intense coffee from Montale Paris, an oriental rose on a vanilla ground with a sprinkle of coffee.
When I have the desire to perfume elegance, I wear Musc Ravageur by Frederic Malle.
by Valentina Felici
Go to Profumeria Essence