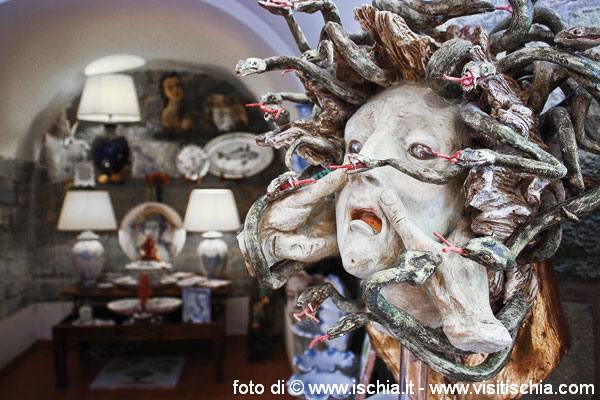 It's important to have a romantic mood and a bit of the imagination to go back in time and remember how the current street 'Via Marina' in Forio, led to "abbasc o mar" (to the sea). The kids, like Franco Calise, probably were not able to appreciate the pure beauty due to their age. The scenery was wild, the beach was long and endless and the sand crossed with the grains also the road a little over a meter wide were there were small shops, where one could buy soda, wine and ice cream.
Childhood memories, Franco is one of them, born in the heart of Forio, where are kept his memories as a painter and sculptor.
In Forio, then, was thriving more than ever the craft, not surprisingly he has been training for ten years in the workshop of Taki, who depicts a man and an exceptional artist, with whom worked happily.
"As an adult, after the military service later six months spent in a supermarket as a storekeeper, I began timidly to bring frames decorated with fruit in relief to Taki, who sold them. It was himself who recognized the talent in me, calling me by his side. The student has surpassed the mentor, told me on several occasions and it always made me proud, as he was proud of me, until his death".
And to think that the creativity and the brush strokes that caress and give personality to the ceramic like white sheets on which to write, were born and matured in Franco that in his résumé has a Diploma in Agriculture and two parents, who have done anything in life. But something in the genes of family there is, as his sister, not long before, has begun working with ceramics in Bacoli.
From 1987 until 2008 his laboratory was in Via Matteo Verde, always in Forio, who left to go to Capri for four years, before returning to the town in the shadow of the Torrione in 2012, where he set up shop in a house of the diocesan administration of the Church of St. Gaetano.
In the past this road was abandoned, residents and tourists used it as a shortcut to get quickly to the port, but now, gradually, it is even more animating through the good will of the merchants, that in this narrow and strip of land where there are some shops, a restaurant and the houses that 'climb' over one another, have showed a bit of life.
Firstly, Franco enhance the exterior, painting the road that, like a carpet, accompanies the walk, with decorations that illustrate a shipwreck as indicated on the cup that is kept together with that one of Nestor in Villa Arbusto, then appeared a stone bench, a little flowerbed and who knows, we continue along these lines.
"My dream would be to create a fountain in Piazza San Gaetano, I have the sketch, who knows ..." The works of Franco Calise are kept a little everywhere, just look at the signs of some business operations and in private homes of islanders in America, Switzerland, Germany, Sweden, Japan and Australia. The most precious creation is undoubtedly the angel made for the traditional Easter Monday who races through the streets by calling the faithful and curious tourists each year. He was the first to reproduce a copy of the original, which is made entirely of wood, and that the Superintendent has been banning since '94, commissioning a new one, in fiberglass, lighter to carry, which took shape from a mold of Clay to resume faithfully all traits.
Also Capri collects its art, with a bench at the Gardens of Augustus impressive in its five meters by one meter and sixty and a majolica panel representing the Virgin, ending at Via Vittorio Emanuele, in a place that was previously considered taboo, precisely in this walled-up window, where after the war had been affixed an anecdote by Mussolini, later removed, remained empty until Franco has not landed on the island of the Blue Grotto in 2011. The islanders are still thanking. Sure is nice to see him at work to decorate especially at night with the light from the lamp pointed on his creations, now rare, mainly because it takes very little to find farther Chinese furnishings on which to affix his name. In his workshop, the attention is caught by small objects that are most sought after in the show exhibited in some of family furniture that follow him in his wanderings, a Neapolitan console, Luigi Filippo, a belief of Ischia, small and intimate space in which there are the calls of the green tuff, which then gives way to the ovens, enamels, clay, colors and a small bright porch where it is pleasant to paint.
What is striking is the inspiration of the Neapolitan Baroque, highest artistic expression such as the example of Caravaggio to which he was particularly inspired, but the hand has evolved in time, the subjects are inspired by the classic and are rich thanks to experience of Capri that put him in touch with an artistic reality very lively.
So colors of Vietri majolica, such as yellow, ocher and green, have been replaced gradually by the use of blue so refined and relaxing, with colored inserts. Like the collection of the 'Principi mercanti' began to Capri and ended in Forio, characterized by backgrounds in blue, dress embellished with gold, and where one sees elements of earth, like figs, melons, artichokes.
It is clear that the handmade leather bag with some bucolic allegories, the lamp with the half-length of a Venus that references to the deco art, angels which are some of his main features and some fishes that can have humanoids expressions, there are also those that defines his 'jewels', five different types of pendants made of porcelain with gold-platinum interventions. The one that has most of all great charm and mystery is Medusa, which stands at the entrance, statuary in its most typical expression with many snakes, is a subject very dear to Franco, which is something very intimate and strong, but does not want to reveal, so for the moment we can be satisfied of the more classic version of the defeat of evil.