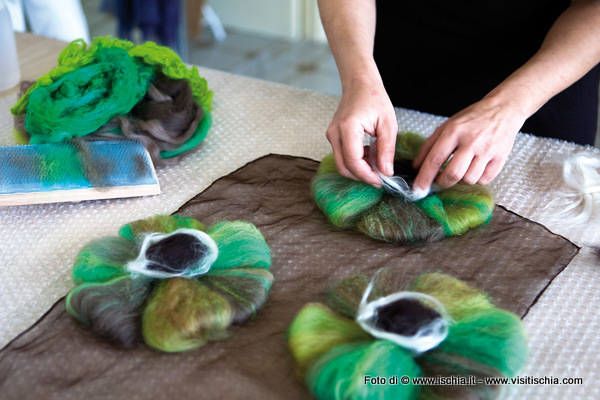 The smell of vinegar comes to my nostrils just crossed the threshold of her laboratory. The wall is filled with bowls and colors. Five are fundamental ones, but the nuances created are endless. The needle and the thread are ready to finish the edges. In the pot rest just silk fibers dyed. Red and blue: vitality and calm in comparison. It's almost a science. A little of this, a little of that, the difference being that there are no rules and the arrival point is always an ongoing quess.
Bettina Buttgen is an adopted German artist who travels between multiple local worlds of design, art, craft, Haute Couture. There are no borders.
Her life is in a world of textures, her hands were always so creative. It's amazing to think that she started to embroder at the age of four years old following the grandmothers and at the age of five she was spinning wool, knitting below the school bench in order not to give any bother. Over the years she continued to experiment with the techniques learned during the training period around Europe, developing new and original. ones. Without forgetting the work as a costume designer for musicals and shows in Germany and the packaging of hand-painted clothing since the 90 's here on the Green Island.
Her clothes don't have time, especially those more artistic, and production is limited as indicated by the label and its signature strictly by hand. A symbol of love, two B together to compose a heart that encloses the patience, love for her work and Ischia.
As the roots of a tree, the edges of her creations are imposed, crossed, tied up, creating an interplay of shapes, colours and unbelievable fabrics. From delicate organza, chiffon, sleek with transparency of georgette or the particularity of gauze, with the prized pure merino wool or cashmere: how many textures!
The inspiration is around the corner. Ischia continues to captivate the imagination of Bettina thanks to its architecture, light, nature, in an ongoing dialogue that is narrated in her illustrated catalogue by the photos of Martin Blume and Giuseppe Greco.
«Bettina Buttgen – we read in the introduction to Eleanor Fiorani-is an artist with a fabric and textile designer: create wearable art fabric. She weaves and dyes them with colors made by her, painting and designing them and prepares the possible uses: they can envelop the body as scarves, stoles, shawls or tie together, but they can also be hung and covered as paintings for their beauty and expressive intensity. The passion and the impact is not only symbolic but also poetic and sensuous, tactile and visual, fabrics chosen and designed as a living material, giving shape in infinitive boundaries of cloth, to objects full of stories. "At the Ipomea Negombo, exhibition-market of rare and unusual plants, from 18 to 20 may in Lacco Ameno, you can also meet her. Marco Castagna, creator and curator of the exhibition, to celebrate this tenth edition has decided to host a Butterfly House, a large greenhouse with colorful butterflies that can be seen in their living environment, with caterpillars, cocoons and nymphs. It is precisely these splendid creatures that Bettina wanted to honor, making them "flying" on her new collection.
If you visit the Park's Hydrothermal Negombo on another occasion, don't forget to visit her own show room which is open from October. Observe her work while she is dedicated to finishing will be an experience to enjoy. It 's fascinating to know how the silk is put under tension, as with water, soap and movement can be matted and forms of wool and flowers can be fixed. The work behind a creation makes its story a real poem. The time needed to make these clothes can not even misured. The techniques used have a big range from dyeing,to painting. The tissues become like a page of a book that should be written and take shape, they speak of her.
An adventure that has been enriched by an experience in Poland, in the late 1980s, where Bettina learnt to dye and work the wool, since then she never stopped experimenting and ... playing with tissues.