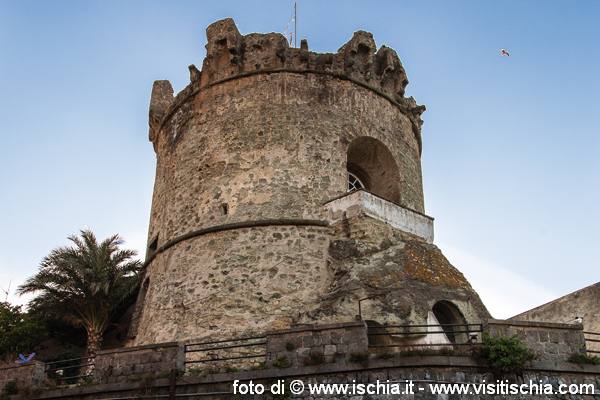 100 years after his death (January 7, 1852 - August 21, 1913), our magazine wants to recall a genius artist, Giovannangelo Nicola Maltese. Forian poet and sculptor whose talent has been driven by land considered a free interpreter of nature and life with that innate spiritual energy, father of true masterpieces. The Torrione, which the artist received in lease by the Mayor Orazio Patalano, became his studio and now houses his works.
Based on NCROCCHIE
Quanne sto nnènt'a ste capìgghie d'ore
- e ngè lu ventarié che ghie sceléie -,
cu lu nése pe ghièri', ève cuppéie
nun sòcce mènghe dì che bèll'andòre!
E quanne ghiuócchie tuóie nda lu miéie
- còmm'a n'ape nfezzata nda nu fióre -
lu curunié se zuca de stu còre,
ncalametéte, allór, 'un pepetéie.
Pu, si stu muss'a' penimene de ròse,
alliér' o mmenenét'o ndefferènte,
se vota mère me pe dì qua còse,
Tanne me sènghe mmócche le fragniénte
e – si nun fusse tènte pavuróse –
te mullarrì le vés'a ciént'a ciénte.
Quando sto innanzi ai tuoi capelli d'oro
e c'è un soffio di vento che li spettina,
col naso in aria vado raccogliendo
non so neanche dir che bell'odore.
E quando gli occhi tuoi fissi nei miei,
come ape che in un fiore si configge,
mi suggono il più tenero del cuore
ammaliato allor non apro bocca.
Se poi le labbra tue, foglie di rosa,
allegre o invelinite o indifferenti,
per dire qualche cosa mi protendi
io sento in bocca un tale eccitamento
che se non fossi tanto timorosa
ti lancerei i baci a cento a cento.
Giovanni Maltese was born in Forio on January 7 1852, son of two peasants, Francesco and Rosa Castaldi, lost her mother at an early age, was entrusted by his father, who got married for the second time, to some uncles working in the fields. The contact with nature and with the rural culture feeds his artistic vocation and stimulates his creative instinct, so much so that his first sculptures are born out of twigs and sticks carving heads and figures of men and animals. These works leave already guess his talent, raising bewilderment and admiration of the villagers and even the involvement of the mayor of the town that gets a scholarship for him of thirty pounds per month. The young Maltese can thus move to Naples, where he enrolled in the 1870 the Institute of Fine Arts; among his teachers there were Licata, Maldarelli, Toma and the sculptor Stanislao Lista. Soon Maltese is noted for his skill as a draftsman and modeller. After graduating as a sculptor in 1879, he moved to Rome where he attended for two years the study of realist sculptor Giulio Monteverde, who in 1882 earned him the first prestigious assignment, proposing him for the work of decoration of the castle of Chenonceaux in Loire; following disagreements with new contractors, the sculptor leaves the work and moved to Paris, where he lives creating portraits with carbon. The stay in Paris allows him to get in touch with Impressionism, to which is tied more than the painting technique, with the rejection of academicism and its rhetoric of romantic art. Back in Italy, he realizes in Forio for Mrs. Wagner at "Mezza torre" some bronze statues, including the Pidocchiosi (1881), and the following year he exhibited in Naples Graziella, sculpture condemned by the official critics. The year 1883 marked a tragic turning point in the life of Maltese: the disastrous earthquake that devastated Ischia on July 28 destroying the family home and kills the only relatives who he had, his brother and his grandson. The artist chooses to remain in his native land, and obtained long leases from the municipality of Forio the most ancient defense tower, the Torrione, he retires, adapting it as his home and studio. In this picturesque setting over three decades arise numerous works, including portraits in charcoal and some of his most interesting sculptures, executed mostly in plaster, characterized by liveliness of expression and anatomical accuracy, obtained through studies and copies of classic works. Favorite subjects are characters of everyday life and the forian society of the time: fishermen, farmers, peasants, burghers. They are the same characters that inspire and motivate even the poems in dialect, latest passion of Maltese, to which the artist devoted starting from forty years. The vernacular is the medium that allows him to hit the corruption of local politicians with stinging satire, disclosed in 1892 in anonymity in a libel titled Cerenne. In 1901 he married the English painter Fanny Jane Fairer that remains with him until his death on August 21, 1913, his remains, perhaps because of the conflicts and political controversies have not found a proper burial and are buried in the mass grave of the cemetery of Forio. The paintings and sculptures left to the municipality of Forio are still visible today in the Torrione, which houses the Civic Museum dedicated to him. Muse of all his artistic production, for which there is still a valid and comprehensive critical analysis, is the realism, the artist himself has left a statement of poetics in the dedicatory letter that opens the collection Nrcocchie: "Unrepentant Naturalist, persuaded, that in the busy reality of life must be sought the eternal source of art, in poetry and sculpture, I had no other job than to tap into the true". His work is nourished by the observation and study of humanity and social reality of Forio and the island of his time.