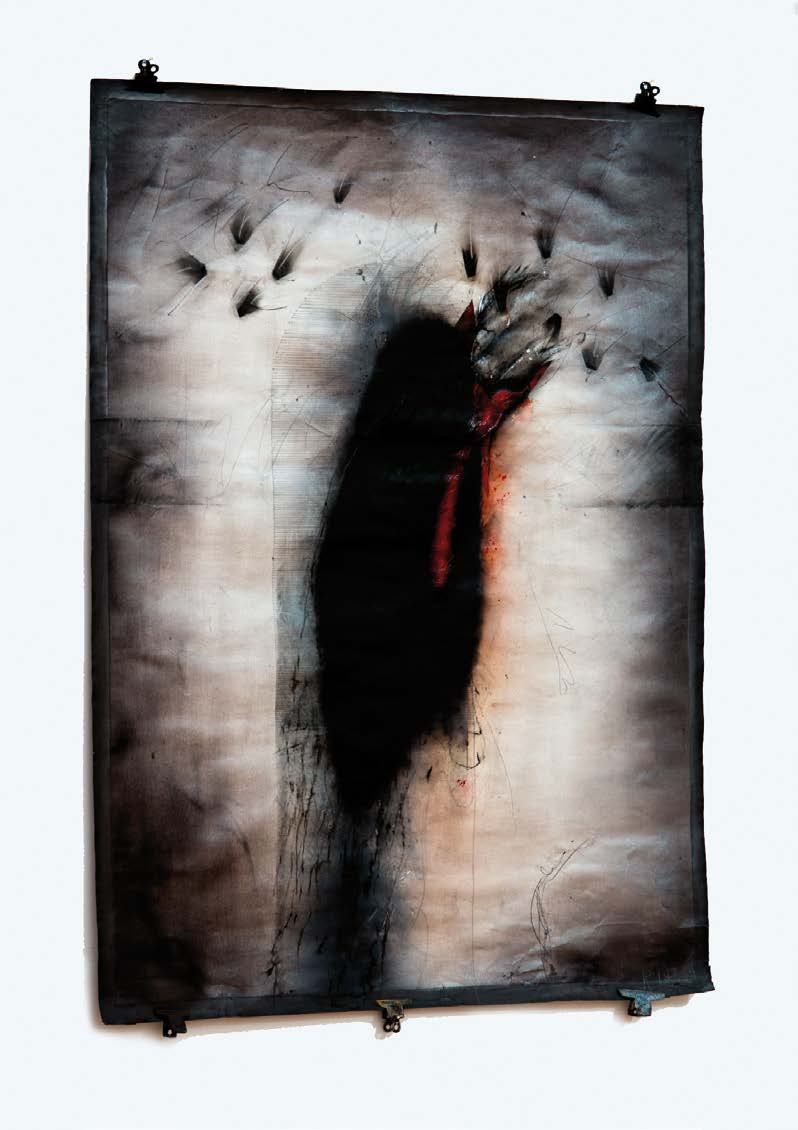 The refrain shakes me, comes and goes, hovering in memory: «È del poeta il fin la meraviglia... // ... chi non sa far stupir, vada alla striglia!»

These are the famous verses by Giambattista Marino, the Great poet of baroque poetry. It has been four centuries, and its strength does not leave me for the disruptive contemporary, dressed up with a peppery vein that reveals a necessary, essential and raw truth. The "poet" of rhyme is the "artist" in itself, to put it bluntly. Why do I start with him? It is easy to say.
I returned days ago in the monumental area of the Aragonese Castle.


SPEECHLESS BETWEEN HEAVEN AND EARTH.
Entering the Church of Immacolata, an unfinished baroque style building with a troubled history, I see a "marvelous" setting that has left me speechless for its beauty. It's the exhibition that the association Amici di Gabriele Mattera has held for him and Raffaele Iacono.
Gabriele passed away few years ago and his lobing memory is still alive each time I watch his valuable and unique work, such as the paintings of the period of «Uomini in rosso» now re-proposed. They look like diaphanous titanic fragments that exemplify the refinement, the elegance of a style based on the vision of a radical humanism, which requires detachment from mondanity. In him there was an ethics of distance, a little bit ascetic by statute, suspended between a dual and planetary, but earthy for the attractive force, originated from the deep pit that everything leads back - even the ideas and pictorial signs - to lean on underground rock-solid foundations of philosophy.
What are works, if not pieces of autobiography to rebuild them, to multiply with the passage of decades, with the knowledge that accompanies detachment (the final one of the body from our Earth) with the increasing presence of Gabriele in memory?
I get excited and travel in time with flashbacks to shared moments with the master, under the sign of an art and a place that are levitating, perhaps immortal in time. Just there, in the Immaculate whiteness, hiding in warehouses the cemetery of the Clares, considered the epitome of the fragility of human affairs and disintegration. In this fast conceptual loop we see a virtuous circle, a good twist between death and life.

THE YELLOW FIRE OF RE-BIRTH.
In this winding and unfinished geography of the place, almost Orphic or Dante-esque, which sooner or later, so many centuries ago, had an origin exploding, now it fits a rare harmony with the pendant of an installation designed by Raffaele Iacono. It is the extra-ordinariness of his new highlight, what I think I can call the Banner of Birth. It is a long strip - protean term - composed by nine frames faded in time and space that defy gravity: falls from the sky and arches, returns to the top of the dome in the white church. Linked only by thin wires at the ends renews the suspension, or rather the transition that inspired Gabriele, but reproduces the exact opposite in the iconic representation with absolute consistency. What's in this frames? I see the explicit narrative - as never before in Raffaele – of a creative act: the
birth of the island of Ischia or maybe the one of the Castle (and that could be also the end) that share their fiery volcanic revenue from its ancient hot springs. I imagine Raffaele struggling with a geophone, the sensor capable of detecting even the minimum sound waves that pass through the Great Mother as it contracts. Listening to the thrill along with the vision, repeated - and it is a kind of stylistic revolution or a backwards game in the history of Iacono - entrusted to the shadowy silhouette of a viewer positioned in the elsewhere. A net figure similar to a graphic novel; rather, it seems an indirect tribute to a masterpiece of yesteryear by l' Eternauta. However, I have no doubt about the identity of the man: he is Gabriele Mattera who is reflected in stony magma infused with yellow flames of the cataclysm in place. The flares are brilliant yellow. Because if the yellow was the color are «capace di affascinare Dio» as wrote Van Gogh, for the ancient alchemists yellowing it was a process that metaphorically meant the achievement of the goal of all, the psychic integration. Yellow, especially, expresses the infusion of energy and a renewed interest in the outside world, leading to the full involvement (red, is its colour) in existence. Just like the red-men by Gabriele. In rebirth. To them Raffaele Iacono honours.

GABRIELE AND RAFFAELE, THE PAINTING FRIENDSHIP.
Telling about the friendship which for years has tied together Gabriele and Raffele is very difficult. It seems to bare an intimacy and an intense sharing, almost sacred to us. It seems impossible to define, classify something as elusive and yet so deep and sincere. A friendship started slowly and silently [...] born from the great passion for art, especially for painting. [...] Their friendship was notordinary, was the rare and unique friendship of two artists who understand and communicate beyond words, was the union of the people who have the same feeling [...] Joy. This was the other feature of their relationship. Always simple and calm even when dealing with difficult and serious issues. The irony was constant and so the desire to simply be together. A desire to be together that has come to us with the same intensityand we all feel yet with equal enthusiasm. [...] Two painters and a great friendship. The painting friendship. (Anna Cristina Mattera - President of Amici di Gabriele Mattera)