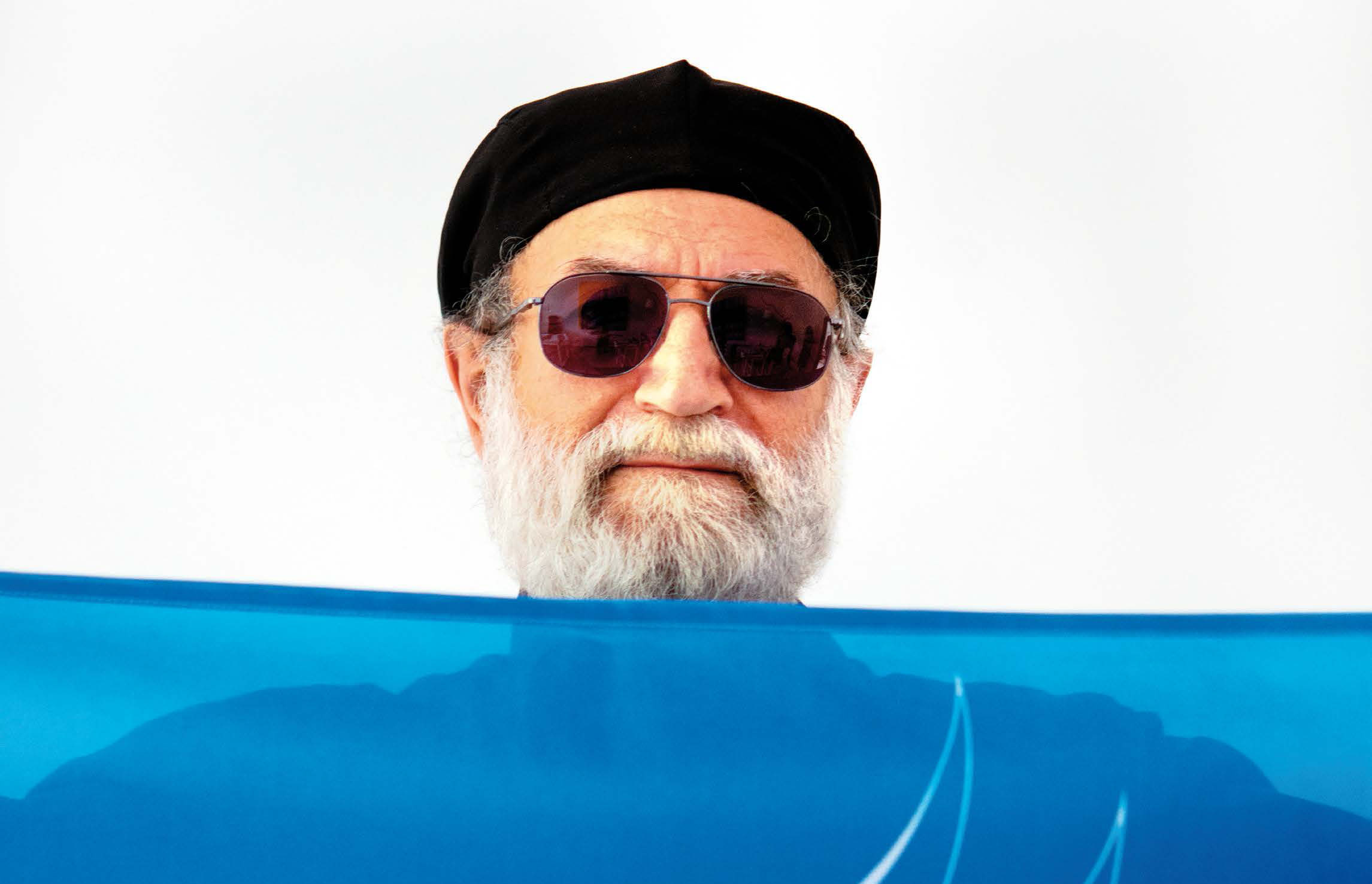 Meeting with a master of lettering design, graphic design and visual communication. Born in Forio, he lives in Brooklyn and teaches at the university in New York, is the creator of "Serif Gothic font", and is viscerally tied to the land and language of origin, in the spirit of pleasure. And of a contagious and ironic transgression.
In the square of the fontain, in Forio, between the tables of the bar there is the buzz of the souks that blends with our slang words, furiene sounds, syncopated dialogue in pure American, repechage of memory, laughter, jokes and rattles pacifists to shake . Listening to Tony Di Spigna is not equivalent to the Italian transcript of our Italianate art-themed chat. It's more. For example from my interlocutor explodes, belligerent (and is an oxymoron intended), his huge pacifism, which requires us to think about the world in a careful way, in global times that inspire - again - nightmares. «Once I wanted to make - he says – the "coat of terror", with the symbols of world fascism pinned on the fabric as paradoxical memorabilia. The arms industry is a huge business, especially in America: who makes money with weapons, I would hang it upside down, hanging by .... ».
But if that is the background, I can reveal the personality of Tony, who was born in Forio 73 years ago, he lives in America; he is a complete artist and, above all, is a master of lettering design, graphic design and visual communication. He is a myth, and not only for the students of the New York Institute of Technology and Pratt Institute, where he teaches. Twelfth of thirteen children, pupil of great Herb Lubalin, has received awards and recognition because, among other things, invented the printing characters, such as Serif Gothic. When he returns in Forio, every summer, he spends hours in the country, makes rural life with relatives, and begins to "make tomato bottles", scrolling when possible the pages of Stephen King, Shakespeare, Kerouac, Hemingway. He is a formidable character. Although not mentioned, he has a "something" of Bukowski, my great Charles ...
How old are you?
I was born in 1943: I was nine years old when I went to America. I teach at the university, graphics and communication. For 47 years.
I have an idea about you: that in your blood, in your veins there is still something of the Beat Generation.
This is true because in the sixties, with the war in Vietnam, with hippies as they say, there was an interesting atmosphere, lively, social unrest, strong social unrest, which has taught me a lot. In 1967 I was still in school (I graduated in graphic design) and I did not go to Vietnam, they left me alone, because I was married and I went to university. I had two friends who have left and were killed. One was Antonio Bertolucci and the other Maurizio, who was working with me: after three weeks we had the news that he had been killed. It was an unfortunate war and the tragedy was that Nixon during the election campaign said he would stop the war, and instead has continued for four years. Waste of money. As in Iraq. Johnson had already sent half a million of soldiers; and Nixon against Humphrey, the Democratic candidate, had promised ... but did the opposite.
Are you Democrat or Republican-lib?
Independent. The two parties? They are equal. We always vote for those who make less damage. America is now becoming worse from here. This Trump is scary because has no experience, it is a showman, is racist against Mexicans and Muslims: he has the money. I am astonished that the party supports it. Before there was a movement against him, but since he won the popular support, just because the people are dissatisfied with the policy, the party has changed its mind about him. He says he will make America great again, but are empty words. I really don't like it.
How many children do you have?
Five children. They live in North America and every two or three years come here in Ischia. The eldest son is Marcovito, then Mariella, Franca, Angelica and Anthony. My wife's name is Maria Rosa Lombardi from Casamicciola.
Do you feel an American from Brooklyn, Italian American, an Forian American, or what?
I feel a human being in the world. But I am more Forian ... If I had enough money I would come here, to scialare on the beach ... Excuse my talian language ... I live in Brooklyn always, I'm in New York, I grew up there. I am a Brooklyn man, in short.
Is there always the man who sells chickens, rabbits?
There was! I remember when we got there it was again. These are independent specialties and large companies have abolished them. There are no longer those little shops. I work in New York, at school, but Brooklyn is a bit more country; in New York there are only offices and skyscrapers. In Brooklyn the houses are lower, it is more flattened. A little better. It's less stuffy, sure, but there are four million people. In New York, eight million.
When was born the passion, as a boy?
When I was a child and watched the clothes, even of monks ... I appreciated their clothes in an artistic sense. But do you know I was thinking of becoming a monk? After I discovered women and ended my career! I am the twelfth of thirteen children.
And so the priest in a large family was right.
I thought of doing the confessions to all women!
Is there eroticism in your work?
I like it, sure, maybe there is in mentioned was a woman who spanneva 'e panne: a garter belt, a giant bra, so largeee, and a petticoat. Then this woman opened all the windows and went out... and I was paying attention, also my weenie in attention... and also greeted the stuff she put out, and she laughed, without scuorno, nothing ... I was nine years old. Then three months later I went to America, and in the beginning it was a bit difficult because I did not know the language. Later I went to work, there people have to work to bring money home, in a delicatessen, where sliced hams, I was twelve, and I was behind the counter. Then I saw one next to me who was 40 years old and always did the same thing.
I worked up to high school ... but looking at that man 40 years old, I said I could not do as he does. So I enrolled at the University of Art Design Program, because I already liked art since I was in high school: we made posters, knew I was not Picasso, but ... I remember the first class: was called "Life drawning". The first night I saw that there were nude models, completely naked! And, from then on, I made a final decision: I said "this is a good job". I splashed the chest of a model like a ball, which is easy to do. The teacher came over and said, "Bravo, you are doing well, walking forward". Then I went home and my mother asked me: "What are you studying in school, what are you learning?". I showed ... And she gave me a slap that made me get out of the tears from eyes: "But we are sending you to college to do the crap?".
way. But there is also humor. It is interesting to listen to those who observe my work, what sees: is the first time I hear eroticism. All right.
You have discovered the women, then what?
Can I tell you a little story? I went to school at Soccorso, and the teacher was very bad, pulled on ears. One morning asked me a question, I answered, but she said I had not responded well. She ordered me to go down in the square as punishment: I had to salute the flag for fifteen minutes. I went down, in front of the flag: I had to stand at attention, but I saw a window where there Mom was a peasant called Marianna. "But, this is art!" I wish I could have made her understand.. "Art?" she replied, and said a dirty word, "This is crap!". My father, looked: "Go on, go on". And now here I am.
There is a self-portrait with your fingerprints on the eyes: is it a double self portrait?
Yes. An idea ... The school gave a check for teachers to do a piece to be exhibited in the university gallery. It is a self-portrait and a portrait, I like to give a thin conceptuality...
The work on fonts when it started?
I've been lucky. Out of college, I went to work as one of the best graphic artists in the world. His name was Herb Lubalin, was very well known, did anything: was there to draw a lava? He is drawing a lava. He had a great reputation. He was very famous for creating typography characters and there are many typefaces that he invented, as AvantGard. I also designed several typefaces, such as Serif Gotich. For me, I've made two dozen. Ten years ago I developed, with a partner, a small studio: I design them and he puts them in digital. I hope at the end of this year to launch them internationally.
Is there a lot of money to be made in it?
It's a whim. It depends if the typeface is successful, if people use it. This does not give grounds for complacency. I am a problem solver in the communication design: this I studied and taught. I can do anything, I can draw anything. A church? Ok. I made posters, book covers, I am specialized in branding, design symbols, fonts, all about communication; between literal, radio, TV, everything is visual. Who are our customers? Those who have a problem and want to advertise, have a product or service to promote and necessary of a specialist who knows what needs to be done. The trouble, which involves also the island, is that when one has to make a promotion does not go by specialists like us, but do you know where it goes? To the printers! Absurd.
What has changed with the computer?
The computer is like the Gutenberg press, brings the world to the size of a village as McLuhan said. You must think that I explain to students that there were the mule and the cart, even my family had them before radio and television. People that grows with computer thinks the world is born with the computer, do not think that the marvelous inventions of the 20th century are appreciated. The computer is pervasive, it has brought a huge change, and there is good and evil. What is evil? You lose the manual, handcraft. The customer sees the computer and think everything is simple. You ask them "when you need it" and he says: "Yesterday". He does not know that there are days of work. The computer does not think, does not have ideas. I also feel a bit illustrator, but it's not my job. And if you ask me the cartoons, I make those too. But it is the style of my characters that introduced me to everywhere, and that evolved after the association with Lubalin. There are only six people in the world who know how to do.
When you become adult, twenty years from now, what will you do?
I want to open a brothel, ah, ah, ah !! But I should learn ... In Amsterdam I has never been ...
Joking aside, meanwhile, turns a bit for the world, to teach.
Enough. I was given lessons in London, Australia, Turkey, and if I get invited I do workshops. But very often this happens in the United States.
Are you an eternal boy of Forio?
This is the sin of man, if we stay children, there would be more peace in the world.
What do not you like about Forio?
Forio I like it! I do not like some of the neighbors ....