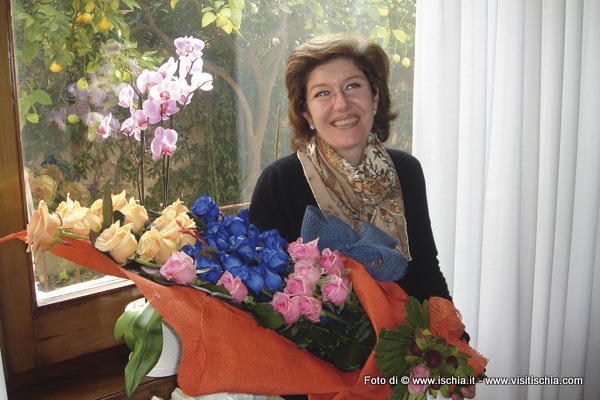 It?s the story of a family, before being that one of a company, that one of Johannes Scotti, his wife Adua and daughters, Alessandra and Donatella estimated for four generations in the activity carried out in their perfume shops.
As Milan has its ?Mazzolari?, Rome ?Castelli? and Bologna ?Limoni?, Ischia also can boast the history of a great little reality like this, that in the 1960s has also launched its own perfume, that someone remembers in a red box with the coat of arms of grandmother.
Today, as then, tourists are greeted by friendly smile and specialized staff, in four languages, with the possibility to choose between high-end products, being pampered by make-up sessions, facials and beauty day for free.
It was in 1938 when Jnge von Hoesslin, wife of Pasquale Scotti, inaugurated the ?Profumeria Primavera? in Via Roma, a flourishing business in the area, which suffered a small setback because of the war, before 1945 when he returned with her family from Germany.
Jnge, who is just 100 years old, retains the unaltered charm of a foreigner, probably inherited class to the Bavarian nobility to which she belonged. She was a woman at the forefront; her perfumery was the first to be opened on the island. Her son Johannes was witnessed by young participant in this activity. He began his classical studies, continuing training in Stresa, with a period as steward in Alitalia. With the birth of the eldest daughter Donatella, he decided with Adua to leave Rome and return to Ischia, where he opened the first ?Profumeria Scotti? in Corso Vittoria Colonna. A little later came his second daughter, Alessandra.
His wife decided to be a full-time mom, while Johannes has continued to expand the family business, ushering in Forio in '69 and in '74 Lacco Ameno. The perfumeries are currently two in the heart of shopping of Ischia and Forio.
Over 36 000 articles, 9 cosmetic companies, 28 alcoholic companies and 7 accessory companies are proposed by Beauty Consultant Donatella and Alessandra, one more introverted, more immediate the other, but both are able to get straight to the needs of those who have faced. Involved in the sales, the shop windows, and the relationship with suppliers, they are the pillar of Profumeria Scotti. By treating different products end up becoming, as they say, in part, dermatologists, allergists, psychologists, because women love tell. It is a good job, but challenging for those people who do it with passion.
Sensitive and lover of beauty, that surround him, it is useless to ask what is the secret with which Johannes, 77 on July 21, has managed to cultivate the favor of their customers, because makes happy always first women at home, dog included. Ms. Sachs had for him a kind of worship, so as to not wanting to be served by anyone else. She entered and bought only products YSL, asking for eyeshadows and lipsticks of any kind of color.
It has been a long time since the powder sold by weight and colors of lipsticks were just five. The companies were few and there were no market areas which today satisfy a bit in all targets, reaching the highest quality standards.
So they have been fortunate experiencing the heyday of Italian perfumery, when it came into contact with the area manager or the general manager of a company that visited the store directly. At the time of grandma Jnge, was Revson, the owner of Revlon, to enter incognito in Profumeria Primavera. Jnge complained that the goods did not arrive, magically, two days later, the store was overflowing with products.
The story from the golden days, we remember the hallmark of Dive that have marked the time, as Eva Per?n and the lipstick used as blush or eyeliner of Maria Callas, overlaps with the modern one. Fashions change, but Alessandra and Donatella are very conservative about the make-up, follow the trends and study your face, the technique is rigorous. One thing is certain; they will guard your every beauty secret.