Taxi Boat
The taxi-boat service is very appreciated by tourists and our guests thanks to its natural beauty present on the island, but only by sea.
Many people can spend amazing days discovering the natural beauty of the island. This service is available only in summer from April 1st to October 31st , except the bad weather time.
By taxi boat, you can reach small bays, beaches, creeks and secret hallows in a nutshell, you visit the most beautiful places of the island.
The service by two cooperation, one from Ischia Ponte, l'altra con partenza da Sant'Angelo.
The first one from 8.00 to 19.00, an extra of 50% out of hours. The second one only from 9.00 to 20.00.
Alcuni dei punti che potrete raggiungere: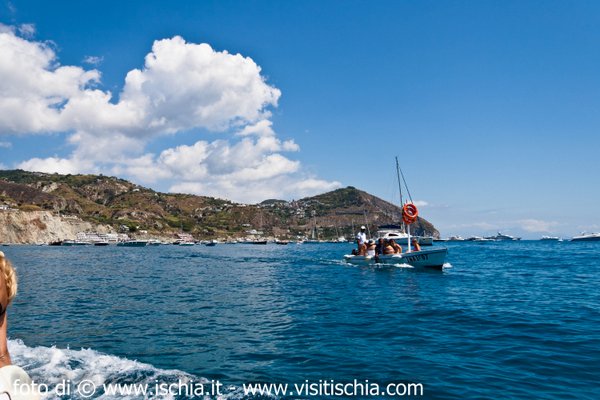 Giro dell'isola (fino a 6 persone) € 200.00
Giro in barca per: Grotta dell'elefante, Grotta verde e Baia di Sorgeto € 15.00 a persona (minimo 4 persone). I bambini pagano la metà.
Da Sant'Angelo per
Biglietto per una persona (solo andata)
ADULTO
BAMBINO
(0-5 anni)
Fumarole: spiaggia calda
€ 3.00
€ 2.00
Cavascura: terme romane
€ 4.00
€ 2.00
Olmitello
€ 3.00
€ 2.00
Maronti
€ 4.00
€ 2.00
Petrelle
€ 4.00
€ 2.00
Destinazioni varie
Biglietto per una persona (solo andata)
ADULTO
BAMBINO
(0 - 5 anni)
Sorgeto
€ 6.00
€ 3.00
Scannella (minimo 4 persone)
€ 10.00
€ 5.00
Scarrupata (minimo 4 persone)
€ 10.00
€ 5.00
Destinazioni varie (fino a 6 persone)
Citara
€ 100.00
Forio
€ 120.00
Lacco Ameno
€ 150.00
Casamicciola
€ 200.00
Ischia Porto
€ 120.00
Castello Aragonese
€ 100.00
Grotta del Mago
€ 100.00