The Sant'Anna celabration dates back to a tradition of the last century. On July 26, each year, pregnant women went in procession to worship the Mother of Madonna who was in a chapel in Cartaromana Bay. They were accompanied by a procession of anglers' boats, which for the occasion adorned the hull with bushes and flower garlands.
Walking through the streets of Sant'Angelo to the discovery of the summer season is synonymous with two things: being on vacation and coming across stories that have written about the past, which is then present that is then the future. An anti-cosmopolitan metropolis that lives on stories over time.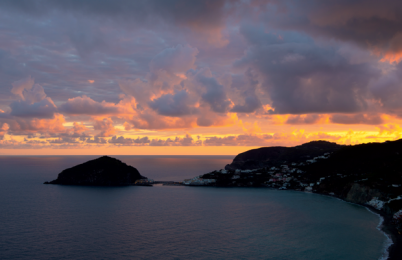 Fire fountains in the middle of the sea. Directly from the belly of the earth, they created the small island with the characteristic rounded shape that makes it even today unmistakable, in front of the southern coast of the big island. And only a narrow strip of sand unites it to the giant dominated by Epomeo.
Great painters have frequented Sant'Angelo in the last century. Werner Gilles arrived in Sant'Angelo in 1936, under a self-imposed exile, because he was part of that strong Teutonic expressionism that was defined as "degenerate" by National Socialism. From 1937 to 1941 he found a small winter shelter and since 1951 he frequented the village assiduously to devote himself to painting.

It was 1960 and even the quiet fishing village on the southern side of the island began to be a tourist destination. An ideal landing place for the yachts of characters seeking tranquility. Far from the paparazzi just launched from the "Dolce Vita", Sant'Angelo guaranteed freedom of stay even to the top-end characters, with crowds of fans: Gina Lollobrigida, Mina, Liz Taylor and Richard Burton, at the beginning of their dazzling love story. There was a white piano in the square below the tower on the summer nights of the 1980s.
Ischia, an island full of hidden gems. The charm of the landscape, the beauty of the beaches, the value of the spa envied and admired all over the world, alongside another cultural heritage certainly not less important. There are parks and gardens, located in the outskirts of the build up areas, which give richness that cannot be found on other islands.