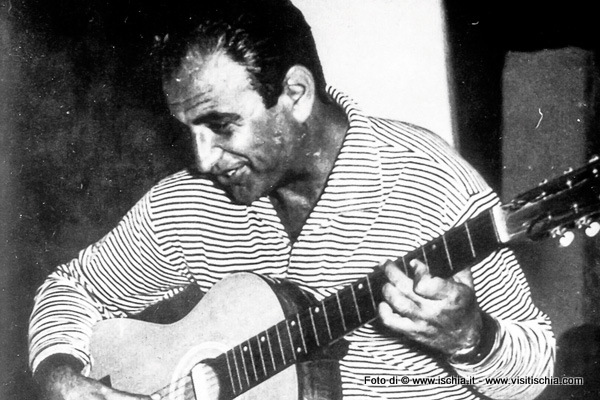 On Thursday, August 7th, 2014 at 21:00 in the gardens of the Tower of Michelangelo in the City of Cartaromana in Ischia there will be a special evening of music with the orchestra conducted by Maestro Antonello Cascone and presentation of actor Gino Riviecco. An evening dedicated to Ugo Calise (1921-1994), the great writer, guitarist and singer of Naples of the1950s.
The association "Folklore and Tradition" formed by Agostino Mazzella and Giovanni D'Amico has resumed the tradition of an International Prize dedicated to Ugo Calise and this year is the award-winning Maestro Andrea Bocelli who will attend the evening and sing a few songs in his unmistakable Neapolitan way.
Ugo Calise was a half-blood Ischian - a doctor father and a French mother's father - a life lived in Molise, in Naples and Rome and around the world. He married a dancer of the famous body ballet of the Blue Bell, Daphne, a beautiful English woman. But the marriage failed. The couple had no children. His most famous song is "Na' Voce, na' chitarra e o' poco e' luna" but in Ischia in the late 1950s while he managed the night club "O' rangio fellone", he wrote to a boy of 19 years who would become Peppino di Capri "Nun e' peccato". The song marked the launch of Peppino.
Linked to Neapolitan music of the 1950s - an extraordinary season for the Neapolitan song - Ugo suffered a decline in the 1960s with the explosion of the Beatles and ended his career and his life with great bitterness.
Here he has recalled by his favorite pupil Stefano Russo, who was awarded the prize in 1995 on the recommendation of Fred Bongusto. Stefano continues to sing the songs of Ugo and perpetuates the memory not only of his voice, his guitar, but above all of his heart.
g.m.

Among the many big and small artists with whom I have had the opportunity to collaborate during my thirty years as a musician, place of pride certainly belongs to great Ugo Calise and not only recognized for his artistic merit.
Calise was a true "gentleman", a generous gentleman of the old school who put in first place in the life values such as friendship, loyalty and professional integrity (only some of the many legacy supplied to him by his father Aniello, a skilled physician, poet and music lover passionate, gold medal at the professional value in life because he cared about the poor free of charge).
I would like to cite one of many forms, perhaps the most significant, with whom Ugo showed me his magnanimity and his affection.
We met at the end of 1993 in Ischia Ponte and, in 1994 we started hanging out at quite assiduously: I often went to see him at his home in Rome to study and work. At the time, already graduated from the conservatory but still without a permanent job, I was a pretty penniless musician who lived as "bohemian" between a Brazilian night in nightclubs, some article written for the guitar magazines and tutorials.
To stand by him, for me, it was a great pleasure and an honor, but had his "practice" importance: even if I don't asked him, Ugo, at the end of our sessions, nibbled at always a big check that allowed me to pull on for quite a bit (he understood it very well!) and this happened until the last moments of his life.
Few people know that in that hot morning in August of 1994 I accompanied him on the train that was supposed to lead him by his relatives, I settled our luggage in the cab of his last trip. At the time we say goodbye, Ugo was visibly felt by the heat and stress of the hasty departure he had undertaken at all costs in order to revise for the last time his shores.
He recalled that, in his haste, I had not yet signed the check; with fatigue chased out of the pocket pen and book, but his hands were shaking - probably were the symptoms of the impending heart attack - and damned the soul of not being able to fill in that blessed check with which I took leave each time. I was almost angry with such obstinacy! I explained to him that it was not urgent and could do so again; my train was about to leave for Naples, I greeted him and ran to my track.
In the evening, a phone call by Ugo's nephew informed me that, unfortunately, had never reached his destination: he had been found dead by the police station with the checkbook in the hands ... Then, ordering his material on behalf of the heirs, I discovered that much of the work that I commissioned were already made by Cicci Santucci (great jazz musician and arranger) and that, in fact, had constituted only an excuse to be able to supply that little financial help so that I needed ...