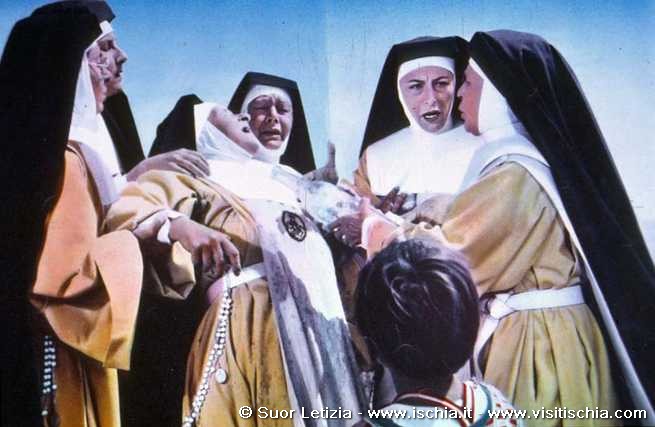 In Suor Letizia, it tells the story of a nun who returns to Italy after years of missionary work in Africa and is immediately sent to deal with the sale, in Ischia, a decayed convent. The impact of the nun in the island can be summarized by the comment that says, "This is worse than in Africa, sisters". In fact, life is hard work in the fields extreme, the children steal the goats, the fishermen do not have the money to buy the nets, the island is depopulated by emigration". On the Island it is evident that there is still no sign of tourism. Sister Letizia off the vaporetto, solitary, only serves to bring the boat back to Naples or the villagers, who go to work. This film was not appreciated by many critics considered it a melodrama full of affectation.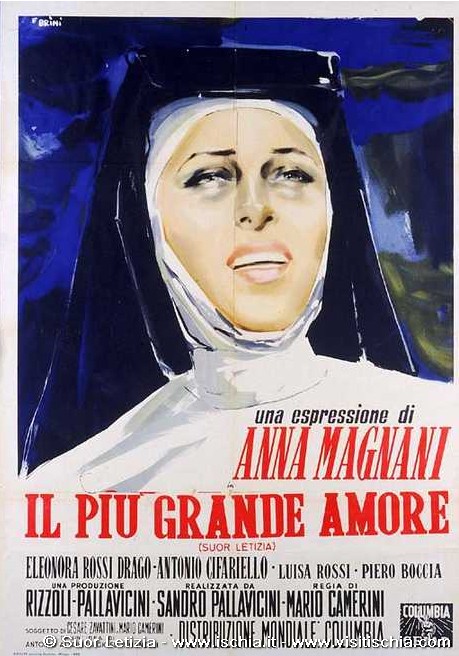 Title SUOR LETIZIA
Release date(s) 1956
Other titles IL PIU' GRANDE AMORE
Based on AN IDEA OF ANTONIO ALTOVITI AND GIOSE RIMANELLI
Genre PSYCHOLOGICAL DRAMA

Production SANDRO PALLAVICINI PER RIZZOLI FILM, PALLAVICINI
Direction MARIO CAMERINI
Photography: Gianni Di Venanzo
Editing: Giuliana Attenni
Music: Angelo Francesco Lavagnino
PLot
Sister Letizia (Anna Magnani), a nun who has spent twenty years in the African missions and has just returned to Italy, is sent to an island in the Gulf of Naples (Ischia), where a monastery is in a precarious state. She will have to adjust in the best way all the slopes, close the convent and bring the little sisters to the church. While she devoted herself to the task entrusted to her, Sister Letizia knows a poor abandoned child, whose sad fate inspires a deep understanding and Salvatore has no father, his mother Assunta is about to leave him to follow in America Peppino, a worker who promised to marry her on condition that she give up the child. Moved by a feeling of heartfelt piety, Sister Letizia welcomes in the convent Salvatore together with other children will reopen the school, everything is renewed and reborn. The monastery rises to new life. Gradually Sister Letizia feel awake in my heart a feeling unknown, a maternal feeling, which drives her to become attached to particular Salvatore. But soon the Superior calls it, and she has to be separated from his protected, which belongs to his real mother. Sister Letizia went to Naples and convinces Peppino to make adjust his relationship with Assunta and take Salvatore. The separation from his protected is the sister painful, but the future of the child is assured.