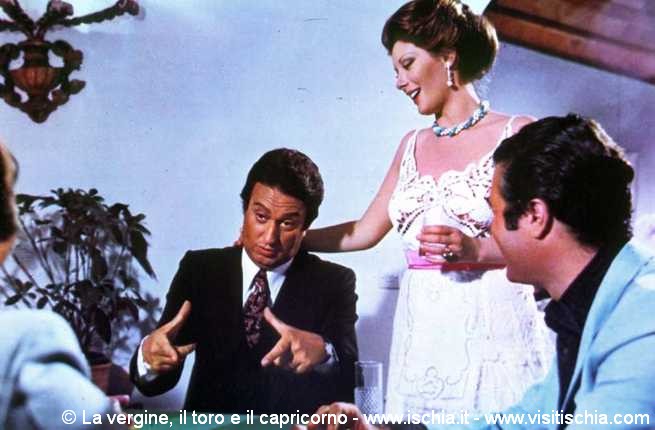 In the 70s the trend towards disengagement becomes standard, with the deterioration of the social situation and the spread of terrorism, the ongoing disputes, advancing the economic crisis and policy increasingly unable to govern the country. Even the comedy takes the direction of escape and production of series B, in which the current erotic is witness of the disconnect with the public and with the ability to read the real that had characterized. (Russo, 2002 p 154). Conforming to the production of the 70s in the rest of Italy, Ischia lends itself to become locations for the movie, "La Svergognata" film shot in '74, directed by Giuliano Biagetti. In '76 follows the film "La Profesoressa di scienze naturali" shot in Ischia in '76, directed by Michele Tarantini, who in recent years gives rise to a series of erotic- comic comedies interpreted by the sexy divas of the moment, in this case Lilli Carati. The next year there is the production of the film: "La vergine, il toro e il capricorno", directed by Luciano Martino, producer, director and Italian screenwriter.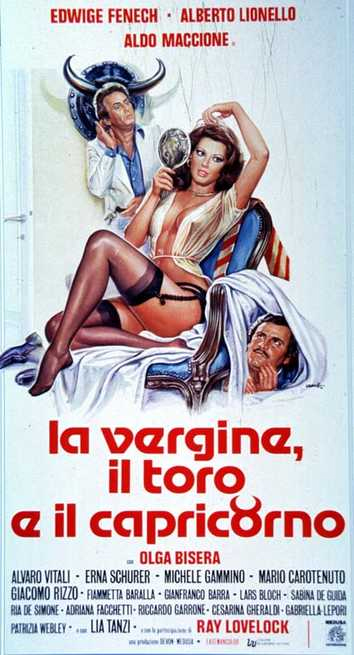 Title LA VERGINE, IL TORO E IL CAPRICORNO
Release date(s 1977, ITALIA
Genre EROTIC
Running time 95 Min
Production DEVON MEDUSA
Direction LUCIANO MARTINO
Starring: Olga Bisera, Edwige Fenech, Alberto Lionello, Ray Lovelock, Aldo Maccione, Erna Schürer, Alvaro Vitali
Photography: Giancarlo Ferrando
Editing: Enzo Alabiso
Music: Franco Pisano
Plot
The Milan Gianni Ferretti, building speculator in Rome, cheating on his wife Giulia with secretaries, typists and friends, but it is safe, with good reason, of his fidelity. After a fake adultery, however, staged to get him jealous, Julia decides to take revenge seriously. On Ischia, where she went secretly dropped two mature suitors, arrives as young lover Patrizio and she take him to Rome. Gianni realizes the truth, but he consoles himself immediately into the arms of yet another typist.