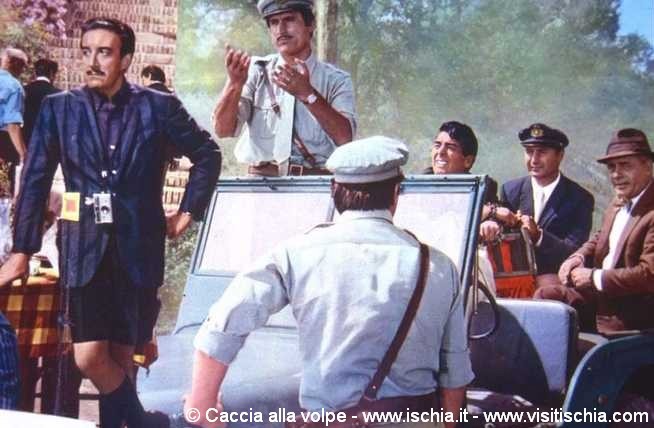 Else isolate, repeatedly used for filming, is the village of Sant'Angelo, a lovely site by Mediterranean colors, the houses huddled together, animated streets until late at night and sent a promontory that rises in sea just a few meters from the village, as can be seen in the movie "Caccia alla volpe". And then there is the legendary Fungo, symbol of Lacco Ameno. The ancient tufa rock, called by the ancients "the rock of the mullet", due to its particular shape appeared several times in the film Cineriz, and can be counted among the island's most famous icons worldwide.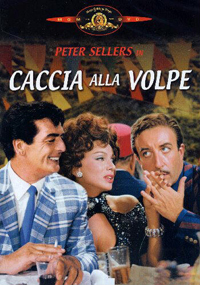 Title CACCIA ALLA VOLPE
Release date(s) 1966
Genre COMEDY
Running time 103 Min
Based on A COMEDY BY NEIL SIMON
Production MONTORO, CINECITTA', NANCY ENTERPRISES INC.
Direction VITTORIO DE SICA
Starring: Peter Sellers, Victor Mature, Britt Ekland
Photography: Leonida Barboni
Editing: Russell Lloyd, Adriana Novelli
Music: Piero Piccioni, Burt Bacharach
Plot
To Cairo was stolen a large quantity of gold and the Interpol thinks he can recover controlling the only person who may be interested in the experience and cunning way to introduce in Italy the gold bars, known as "The Fox". He, who in prison has been appointed by the organizer of the coup to transfer the gold, when he learns that his sister Gina is very attached to which is not leading a virtuous life, decides to escape and went to Rome. But Gina is simply taking part in the shooting of a film and his brother took the opportunity to seize the material recovery and organize themselves for the landing of gold. He went to Sevalio (S. Angelo d'Ischia), a small fishing village, posing as the director Fabrizi, gets the participation of the star is no longer young Tony Powell will ensure the support of the corporal who acts as a force in public country and start shooting a film comprising the chaotic scene of the landing gold in Cairo. But Interpol closing just Sevalio, so all the participants in the film end up in court and the Fox returned to prison except for rievaderne in the spring. The local newspaper Chronicles of the two gulfs (No. 7/1965) it reads: "The square of the village of Sant'Angelo is bustling in these days. It turns, in fact, most of the exterior shots of the movie "Caccia alla volpe" (the title is metaphorical) produced by Montoro Film directed by Vittorio De Sica. Just a short wlak from the sea arose, as if by magic, the church and the town hall of an imaginary country Sevalio".