Many of these films use the island only as a location, as in the case of the film shot in '45, just after the Second World War, "Island Monster" of 1953, directed Roberto Bianco Montero, in which the horror arises by subtraction rather than visionary power, as in the character of this film, sublimated in the collective icon stout and staggering, with his face sewn up, the monster of Frankenstein.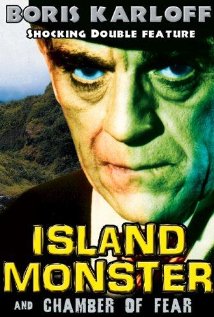 Title SLAND MONSTER
Release date(s) 1953
Genre DETECTIVE STORY
Running time 90 Min

Production FORTUNATO MISIANO PER ROMANA FILM
Direction ROBERTO BIANCHI MONTERO - FRANK FED

Starring: Boris Karloff, Gianni Breschi, Bruna Camerini, Giuseppe Chinnici, Alberto D'Amario, Domenico De Ninno, Angelo Dessy, Jole Fiero, Carlo Duse, Clara Gamberini, Giuseppe Addobbati, Giulio Battiferri, Germana Paolieri
Photography: Augusto Tiezzi
Music: Carlo Innocenzi
Plot
An officer of the financial police, Lieutenant Andreani, who has a particular expertise in the fight against drug smugglers, is sent to the island of Ischia, where it is suspected that this form of smuggling has one of the most important towns. No one suspects, however, that the leader of the smugglers is Don Gaetano, the benefactor of the island, the man who founded and maintained at his own expense a hospital for sick children or sickly. The investigations started by Andreani irritate Don Gaetano, who is to induce him to desist kidnap the daughter of Lieutenant. These will not be intimidated and flows into the fight with greater commitment posing as a broker, who wants to negotiate the purchase of drugs, Andreani goes into the den of smugglers, where he finds to his surprise an old acquaintance, the singer Gloria D 'Auro. The woman, however, not the complaint and he can continue in fiction. With the help of Gloria, the child is released; meanwhile Andreani with her around the house, Don Gaetano and stop the smugglers. But the old man manages to escape with the girl, who took over after Gloria mortally wounded. Andreani chasing the offender and with the help of the Czar, the faithful shepherd, fond of the child, is able to capture it, saving her daughter.