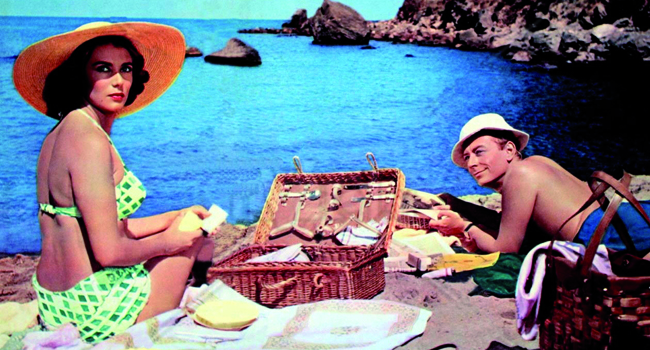 The first film produced by Rizzoli was: "Suor Letizia" in '56, already described at length in neorealism. The following year, again directed by Mario Camerini, the production continuous with the film "Holiday in Ischia" in which several episodes intertwine against the backdrop of beach life and social life of the island, where even in the movie, Ischia, with its sun and its beauty attracts many visitors, who come from all over to enjoy the holidays. More attention on Lacco Ameno, with the luxurious "Regina Isabella" with its thermal baths, the Fungo and its enchanting sea. One way to show other parts of the island as the beach of San Montano, the Church of Soccorso, is the role of the guide, in this case of a young islander, who with his scooter shows the island with a French couple. An interesting film island, there is also the story of Paolo Stoppa who had lively quarrels with Vittorio De Sica.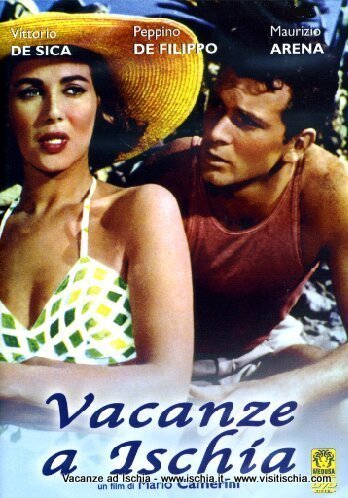 Title VACANZE A ISCHIA
Release date(s) 1957
Genre COMEDY
Production RIZZOLI FILM - ROMA / FRANCINEX (PARIGI) BAVARIA FILMKUNST - MONACO
Direction MARIO CAMERINI
Starring: Vittorio De Sica, Myriam Bru-Paolo Stoppa, Pippino De Filippo
Photography: Otello Martelli
Editing: Giuliana Attenni
Music: Alessandro Cicognini
Plot
Ischia with its sun and its natural beauty attracts visitors, coming from all over to enjoy a pleasant holiday period. There comes a lawyer who dreams of a little rest and instead spends all his time in agitated for fear of causing the death of a street urchin, tossing a coin into the sea, there is also an engineer, peaceful man, if ever there was able to appreciate the sweetness of living to which four youths make a terrible joke, creeping in the soul the suspicion that his wife is cheating, and that the child she is expecting is not his, there are these four young men, always short of money, implanting the fake baths to exploit the credulity of strangers. Brought to the police station they're doing with a little fear, thanks to the intervention of the engineer who knew them and to whom they confess their fierce joke, restoring tranquility. One of them falls in love with a nurse seriously and will be paid. And behold, two French grooms came to Italy to rekindle the feelings that brought them together and now it is languid, they depart as soon as possible when the husband realizes that his wife is not insensitive to the attentions of a young islander. In the midst of the events do not always chaste usual, there are also some spicy note: a process for indecent exposure, in which the courts as defendants, show more morbid curiosity than concern for justice. Passes for all the holiday season, but the island continues to shine in the sun.