Member of the instance is the neorealist film "Angelo", of 1950, directed by Francesco De Robertis, who, inspired by true events, is intended as a call for justice to the resolution of one of the most difficult problems that the war has involved. It is the issue of racial difference, he had already found a place, and in the same terms in the song "tammurriata nera", certainly affect the sensitivity popular. Ischia with its natural location and with the help of the "pharmacy Mirabella" and "Caffè" of the Signorine "Fiurinte" offers settings to the events narrated in the film, also being a victim of social upheaval, related the barbarian raids occurred in the past. The film tends to be positive, but the thorny topic makes a show is not suitable for young people (Bianchi, 1950) can be considered a seemingly conventional melodrama, but who knows how to address the issue of racism with an intensity and an originality able to avoid any loophole to bring out the problem in its entirety. The double soundtrack, made of Neapolitan music and American music and jazz blouses, emphasizes the incompatibility of two opposed universes, although both marked by exclusion. (Mereghetti, 2002).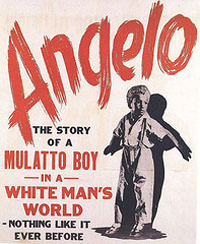 Title ANGELO
Release date(s) 1950
Genere WAR FILM

Running time 85 Min
Production SCALERA FILM
Direction FRANCESCO DE ROBERTIS
Photography: Carlo Bellero
Music: Annibale Bizzelli
Plot
During the war, a street musician, Matteo, commits a theft and was sentenced to five years. While in prison, his wife dies in childbirth. Released from prison, goes in search of the child, care of the Sisters, but the baby is a little negro with curly hair, the result of the violence, in spite of himself, his wife, during the Allied occupation. Very shaken, wounded in the most intimate feelings, Matteo would repudiate the child, but there is nothing to do in the little mulatto is legally his son. And little by little, almost without knowing it, the man approaches the child, which is so cute, so affectionate. When the child falls ill, Matteo, trembling, is surprised to pray for his salvation. Now he loves so much that he is renouncing his beloved rather than separate from Angelo. But one day he has a negro, brother of the true father of Angelo, who died in the war. He wants to take the child with him, but is willing to leave it to Matthew, when the grandson of happiness requires it. But Angelo, impressed by the way of his uncle, the melancholic songs, hear the call of the race and clings to him. With tears in his eyes, Matteo lets go.