Forerunner of the neo-realistic vein appears to be the film "Dottor Antonio" of '39, directed by Enrico Guazzoni, which deals with the 1848 uprising. The main character, Dr. Antonio, was sentenced to many years in prison, right in the Aragonese Castle, which in fact, in the past, was a place of detention. Among his imprisoned for political offenses, they may include less than 62, the most famous: Nicola Prisco (1820-1901), Michele Pironti (1814-1885) and Carlo Poerio (1803-1867), which you spent a period between 1851 and 1852, people of great talent and culture were, with the unification of Italy, also elected deputies, and gave an active contribution to the cause of National Unity and staff. (D'Ambra, 1987). The critical, however, has not been very benevolent towards the final yield of the film. Given the importance and the possibility of the film subject, might have to perform better, but the beginning is slow and the interpretation of the actors appears to be no accents. (Di Meglio, 1937).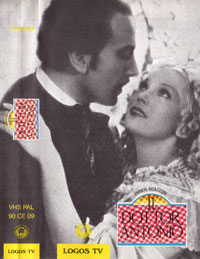 Title DOCTOR ANTONIO
Release date(s) 1939
Genre DRAMA FILM

Running time 98 Min
Based on THE HOMONYMOUS NOVEL BY GIOVANNI RUFFINI

Production GUAZZONI - PIETRO MANDER
Direction ENRICO GUAZZONI
Photography: Massimo Terzano
Music: Giovanni Fusco, Umberto Mancini
Plot
During the riots of '48 in Italy, a doctor has the opportunity to meet and heal a serious wound to an English lady. Between the two lovers fell in love, which is interrupted by the sudden departure of the doctor to Naples, where he takes part in the revolt. Arrested, he was sentenced to many years in prison. But the English girl manages to bribe a jailer and thereby to facilitate the escape of her boyfriend.