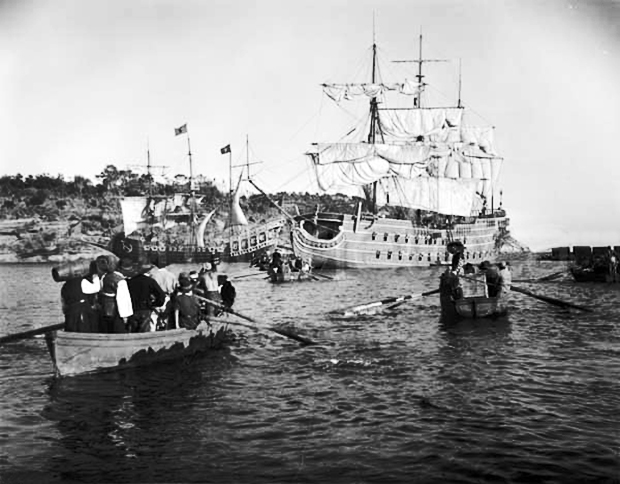 "The Black Corsair" is based on the novel by Emilio Salgari, in which our Pithecusa is smuggled to a Caribbean island. It's a popular movie, but made no economy, with real ships and a collision of excellent effect. The island offers, as a backdrop to epic duels, views of the sea and beautiful and terrible storms. Of this first film the director recalls the scenes "scenes shot in Ischia, a beautiful island that I have in mind for its natural beauty. The climate of Ischia regenerated me a lot. We had to know the beautiful pine forests and to observe a peaceful people to his farm work. In the film I called for a small part the comic Polidor (...) ". In the film, it was important to the long sequence in which Ciro Verratti, Lord of Ventimiglia, riding arena to the enchanting Maronti beach, for the first time presented to an audience of potential new tourists great islanders.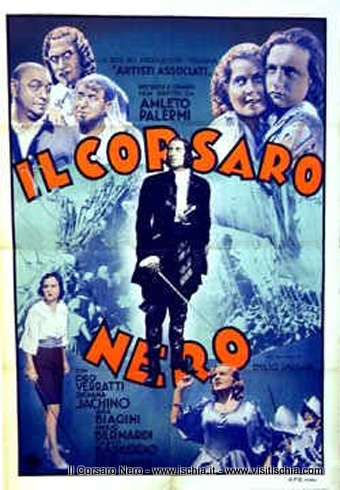 Title THE BLACK CORSAIR
Release date(s) 1938
Genre ADVENTURE FILM
Running time 125 Min
Based on THE HOMONYMOUS NOVEL BY EMILIO SALGARI
Production GIORGIO GENESI PER ARTISTI ASSOCIATI
Direction AMLETO PALERMI
Photography: Alberto Spagnoli
Editing: Alberto Gallitti
Music: Maurizio De Angelis, Guido De Angelis
Plot
The Ventimiglia brothers - the Black Corsair and the Red Corsair - sail the seas of the West Indies against the governor of Maracaibo. Killed by the Governor, the Red, the Black Corsair decides to settle definitively the tragic game assaulting Maracaibo. While sailing, he captures a Spanish galleon on board of which is, under another name, the governor's daughter. The Corsair is taken by the graces of the girl, but when he discovers his identity leaves her at sea in a lifeboat. The girl is saved and brought back to Maracaibo, where she learns, by the Governor, only to be his adopted daughter. So the Corsaro can marry her when, after a fierce battle, he take Maracaibo and kills the Governor. In a chronicle vintage it reads, "Islanders and foreigners have had a great surprise. In the port of Ischia were firmly moored two majestic ancient ships artistically decorated. A member of the Spanish fleet in 1600, the other belonging to a band of pirates. One hundred shady figures of pirates, after taking possession of the premises of the Office of the Stranger and establish the headquarters, turned boldly to the country. Whites, blacks, Japanese, tanned by the sea, restless eyes, face horribly scarred, armed to the teeth with rifles, pistols, swords, daggers, axes and hammers. Pushing guns and mortars, carried boxes and appliances. Islanders and tourists marveled at what was happening, almost been related the incident with the piratical exploits of past centuries. After a few hours of loss, the calm has returned to Port of Ischia. The pirates came just to make a great Italian film, The Black Corsair».