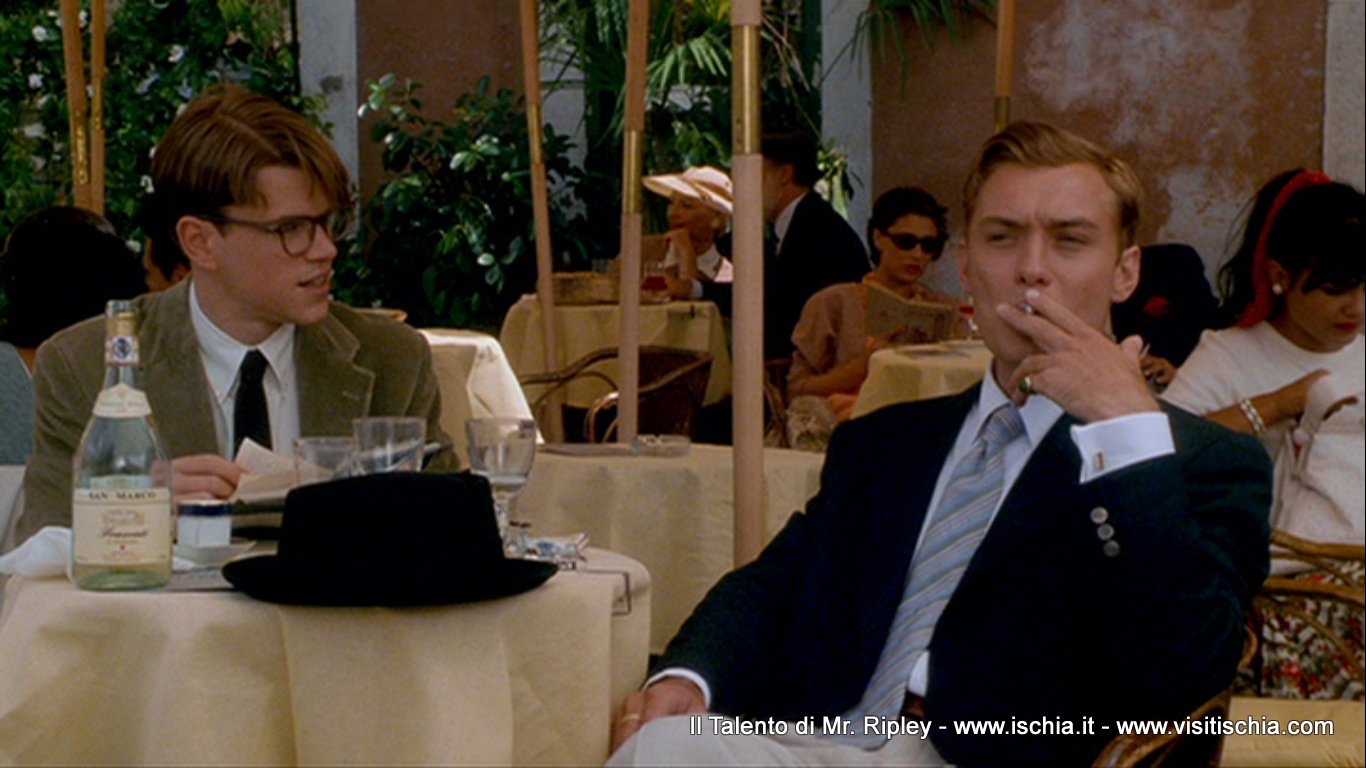 LThe first fiction set in Ischia is "Il Commissario Raimondi" made in '98, and almost as if by a call in Ischia turned the film "The Talented Mr. Ripley", directed by Anthony Mingella. "The Talented Mr. Ripley" has intrigued and fascinated the audience to such an extent as to affect the choice of holiday in our country.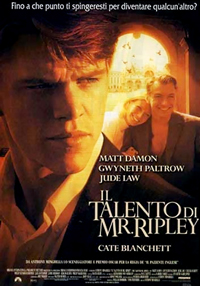 Title THE TALENTED MR. RIPLEY
Release date(s) 1999, USA
Genre DRAMATIC - THRILLER
Running time 150 Min
Based on THE NOVEL BY Patricia Highsmith
Production WILLIAM HOLBERG
Diredction ANTHONY MINGHELLA
Starring: Matt Damon, Jude Law, Gwyneth Paltrow, Cate Blanchett, Philip Seymour Hoffman, Fiorello
Photography: John Seale
Editing: Walter Murch
Music: Gabriel Yared
Plot
In the 50s. In the United States, at a reception, the young Tom Ripley knows the Dicke's father, a contemporary rich and spoiled man left for Italy without giving any news of him. The father instructs Tom to travel there and do everything to bring back his son. In Italy Tom knows Dickie, his girlfriend Marge and their carefree way of living between Ischia, Capri, the sea, excursions. Soon Tom forgets the purpose of his trip, enters little by little in the life of Dickie, he became the inseparable companion, following him in nightclubs in trips to Naples and Rome. But one day, in Sanremo, Dickie fed up with Tom, doesn't want to see and tells him to go away. Then, on the boat, Tom strikes, kills him, takes the money and his identity. In this new role, Tom / Dickie returns to the country, then decided to move to Rome, where he rented a large apartment. Here comes Freddie, old friend of Dickie, who immediately realizes that Tom is hiding something that Tom nothing else to do than delete it. Pressed from the surveys conducted by the inspector Roverini, Tom leaves for Venice. Here there's also the father of Dickie and Marge. The parent reads a letter in which Dickie said of wanting to commit suicide and tells Tom that he has no blame for what has happened. It is equally convinced Marge, but is not heard. Tom embarks on a ship to Greece.