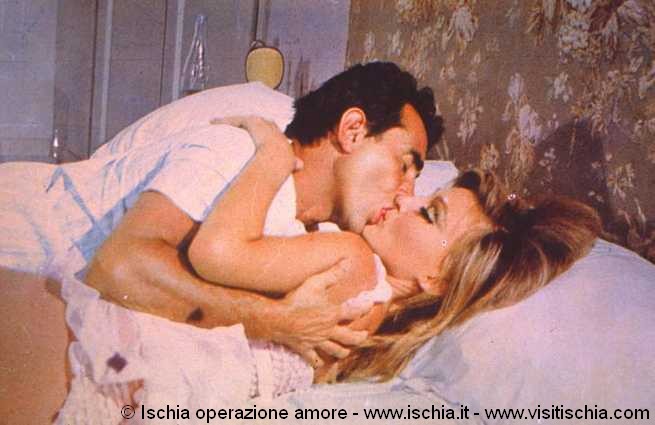 "Ischia operazione amore" film shot in Ischia in '66, directed by Vittorio Sala, was important for the onset of the comedians Ric and Gian. For this film was put much emphasis on the interpretation of Walter Chiari, a close friend of Rizzoli, who had made his film debut in the late '40s, while Peppino De Filippo was relegated to the background. This is the plot of stories set in Ischia with a Peppino De Filippo in the role of a manager of board. Walter Chiari is instead a famous football player and Tony Renis, plays the role of a mastermind. The scenes are set also in Lacco Ameno, where the "Regina Isabella" houses Walter Chiari. Ric and Gian seduce a girl with a handkerchief in the enchanting scenery of Sant'Angelo, the Soccorso of Forio, such as the Torre Guevara at Ischia as a background for the first phase of falling between two young people.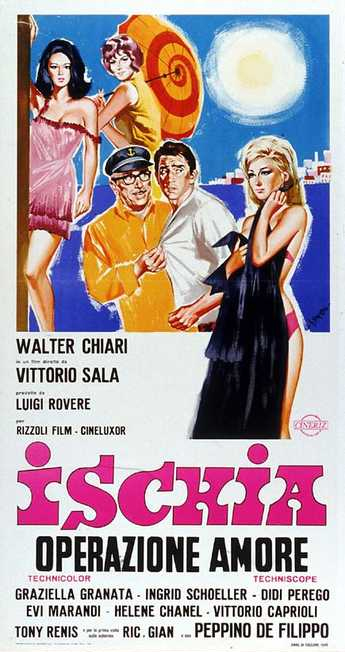 Title ISCHIA, OPERAZIONE AMORE
Release date(s) 1966
Genre COMEDY
Running time 86 Min
Production RIZZOLI FILM, LUIGI ROVERE PER LA CINELUXOR
Direction VITTORIO SALA
Starring: Hélène Chanel, Alberto Cevenini, Walter Chiari, Umberto D'Orsi, Peppino De Filippo, Ermelinda De Felice
Photography: Aldo Giordani
Editing: Tatiana Casini Morigi
Music: Roberto Nicolosi
Plot
The film is made up of some of the events which run parallel and intertwine sometimes their plot. Main characters are: Capatosta Gennaro, owner of an inn whose main attraction is the special attention which they are made subject to the elderly and moneyed customers by the son of the owner, Peppiniello, who, however, against the fatherly exhortations, prefers to order to devote his time to his young wife. Then there is Enrico Tremalaterra, a football player athletically unusable now, he can sign a contract with a business woman, Flavia Petrazzi, when she realizes that she had been cheated, Tremalaterra forces to deal with commitments of eve other kind. Finally Frida, a German girl kept by a wealthy Sicilian nobleman, who finds a way to betray the protector with Mark, a young extravagant inventor.