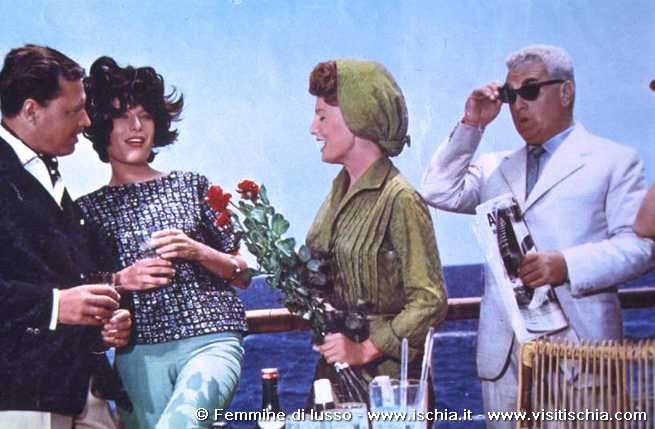 Femmine di Lusso is a 1960 film, directed by Giorgio Bianchi, also known under the title of Incontro aTaormina.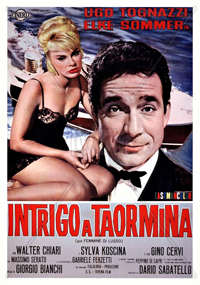 Title FEMMINE DI LUSSO
Other title INTRIGO A TAORMINA
Release date(s) 1960
Genre COMEDY
Running time 109 Min
Production DARIO SABATELLO PER ITALGLORIA
Direction GIORGIO BIANCHI
Starring: Gino Bartali, Marcello Bonini Olas, Ugo Tognazzi
Photography: Tino Santoni
Editing: Adriana Novelli
Music: Carlo Rustichelli
Plot
The Commendatore Lemeni leaves by his yacht for a cruise, from the port of Lacco Ameno going to touch the coasts of Sicily. During the trip he was among the guests on board are intertwined relationships and misunderstandings arise. Alberto Bressan did woo his wife Adriana by Viscount Luca Sanvin, with unconfessed about getting a divorce and then marry his mistress Elena Legarde, he discovers that it is the former wife of Luca. Luciana was invited on board by the Commendatore with the pretext to pose for a series of publicity photos, but in reality to be shown as appetizing bait to the son, unswervingly misogynist, while failing in its persistent attempts, he meets the love in the person of a young man who was romantically linked some time ago. Finally, Walter, the photographer, who was followed by his girlfriend Greta secretly on the yacht, successful, much to the relief of the Commendatore, suffocating the girl to fall in love the apathetic Ugo. Elena will end then to reconcile with her ex-husband.