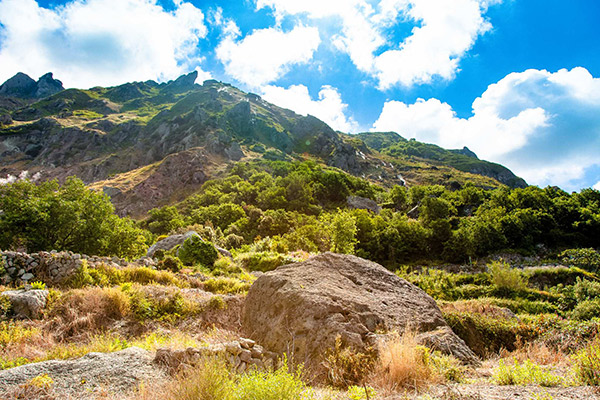 #Andarpersentieri - The program of the manifestation between sea and volcanoes, nature, archeology and geology in Ischia.
A week to discover the beauty of the island, unpublished itineraries to get to know the green soul of Ischia: this is "Walking along paths", the slow and sustainable tourism event that starts in its fourth edition, scheduled for May 11 to 14.
A calendar of appointments for trekking lovers, promoted by 8 associations, Pro Loco Panza, Cai Island of Ischia, Strade del vino e dei prodotti tipici, Nemo Association, Associazione amici di Piazza Maio, Epomeo in sella, Association PIDA - Premio Internazionale Ischia di Architettura and Federalberghi Ischia. They propose a real full immersion among woods and trails, passing through pine forests, hills, mountains and breathtaking scenery overlooking the sea.
Itineraries that will take participants - followed by the CAI guides - to capture the authentic spirit of the island, its heterogeneous souls, and the endless wealth of generous and fertile territory where nature grows lush, giving rare species of plants, flowers, vegetation.
The event will start on May 11, with a path that leads from Vatoliere to Campagnano, through Piano Liguori
Starting from Campagnano - continuibg on a lively but fascinating path, the "Scarrupata of Barano" whose walls show good examples of stratified volcanic materials (tuff, pomici, lapilli, white ashes, trachitic rock) and arrived on the promontory between vineyards, scrub Mediterranean and a chestnut tree rises up Mount Vezzi, a Vulcanic area of 392 m. The descent from the top towards Piano Liguori gives us a beautiful view of Punta San Pancrazio (156 m) with the characteristic little church overlooking the sea. During the journey you will find old cellars dug into the rock built in the terraces of the area that look at the splendid scenery of the open sea and that it meets the other islands of the Gulf (Procida, Vivara and Capri) and the Amalfi Coast. It continues for an agile trail overhanging on various creeks in which steep terrain is cultivated with vineyards. Among these vineyards and along the beautiful Cartaromana Bay at the bottom of which are still visible the remains of "AENARIA", the old Ischia Romana submerged complete the excursion with the return to Campagnano. Book the excursion

Second appointment with Serrara-S. Angelo-Succhivo
, an interesting path through the ancient mule tracks of Serrara, Sant'Angelo, Succhivo and Panza. Until a few decades ago, it was still possible to meet dozens of donkeys and mules returning to the "Mer' e Copp" (the traditional name of Serrara - and in general of the island's mountain side - from the Greek "méros "= Part and, from the Neapolitan dialect" n'copp "= above, top). Departure from the beautiful Serrara square delimited by the eighteenth-century Palazzo Iacono and the church of S.Maria del Carmine. Serrara's belvedere is certainly one of the most scenic on the island and can offer a wonderful view of the Sorrento peninsula, Mounts Lattari and the island of Capri. From here, you can also see the village of Sant'Angelo, the volcanic area of the same name and the Succhivo plain, a geological structure bordered by faults and rich in thermal waters. The route begins from the medieval lane passing through the town but after a while, it opens up offering a wonderful view. At this point begins the descent on a comfortable stairway that literally cuts the rock and is immersed in the Mediterranean vegetation of the area. From here you can observe the crater "Cava Petrella", a deep swallowtail originated by two volcanic events distinct and well recognizable by the rocky layers present. The trail continues to the top of the village of Sant'Angelo, in a place called Mer' Sarak in memory of a legend tied to the raids of the Moorish pirates. You arrive near the beach of Maronti, in the "fumarole" area, where the sand reaches temperatures of about 100° C. Here, take off your shoes and pants and go on board the characteristic "Taxi Boat" that will transfer you to the quaint and fascinating village of Sant'Angelo, pedestrian island where time seems to spend more slowly following the typical relaxed rhythms of the islands of the Mediterranean Sea. Following the ancient mule track begins the climb leading to the point of arrival of the promenade: Succhivo. In this small hamlet, surrounded by vineyards and citrus groves, you will stop in one of the typical cellars for a taste of typical products. Book the excursion

The event continues on May 12, with a day full of paths. The first one from Serrara-Crateca
, which leads to a wild and fascinating landscape on the west side of the island (Forio), to the wood of the Frassitielli, a terracce of thick acacias, in the wood of robinia in the shade of rocks covered with moss, lichen, and wild fennel. Continuing along the path you dive into the wood of Falanga; here reality meets fantasy. In fact, in this chestnut wood you can find the typical holes (the snow dunes) and the shelters excavated in the tuff from Epomeo, because of tectonic settlements (the so-called Stone Houses). The crossing in the forest continues to Pizzone, where the sudden lack of vegetation announces the presence of fumaroles, secondary volcanic phenomena, which can be traced across several parts of the island and evidence of volcanic activity still active on our island. The downhill is again immersed in a forest, this time of holm oaks and heather in a perfect Mediterranean maquis, and leads to Via Crateca in Fango, also called via dei Carri, which has played an important role in the production and trade of alum in the past.Book the excursion

It is an immersion in the geological history of the area of Ischia the trail on May 12, Panza between history and nature
, a path along groves of oaks and heather, tuff and incredible views that leave running glances toward the infinity of sea. Participants will visit the Bay of Pelara, a remarkable geological site from which to get lost in a privileged view and unknown to most, go for woodland sections enriched by oaks, oaks and strawberry trees, right up to the Mount of Panza. This charming itinerary will enable travelers to enjoy some of the most distinctive viewpoint of Ischia, such as the Bay of Sorgeto, famous for its hot waters. Book the excursion

To end the day in the best way, you can rely on the Bracconiere-Pietra dell'Acqua –Miscillo summit
, from the Bracconiere restaurant to Serrara where, through wild and fascinating landscape on the west side of the island. You get to the wood of Frassitelli, a terrace of acacias very well, in the wood of robinia in the shade of rocks covered with moss, lichen, and wild fennel. The undergrowth is the realm of the wild rabbit that has coated and plays a key role in the local culinary tradition. Arrived at the height of a stone arch, which by way of imagination to travel in space and time, the trail continues steeply uphill until you reach a dirt road leading to Stone of Water (huge tuff mass serving as a Tank, hence their name). It has now reached the crest of Mount Epomeo, and the trail continues until it reaches the highest peak of the island, Punta San Nicola, where there is a hermit excavated in the huge mass of green tuff that forms the summit. From this point through an old trencher engraved in the rock, which then becomes a mule track, passing through a chestnut wood, begins the descent leading us to the p of Fontana. Book the excursion

On May 13, the third day of this edition of Walking along pathways, a day starting with the Fiaiano route in Nitrodi
, a suggestive itinerary that follows the path that goes back to the valley of Buceto where the homonymous source is present. The remains of the old aqueduct pick up the water from the source to the village of Gelsa (today Ischia Ponte) accompany the first section. Due to the strong exposure of this first stretch, the predominant vegetation is typical of Mediterranean maquis, where the fragrant myrtle essences are enriched with the aromas of wild goat and thyme. Then you enter a chestnut wood on the slopes of Monte Trippodi (502 m), until you reach Piano San Paolo, an old fossil beach, witnessing the submerged past of a part of the island. Abandoning the woods and beginning the descent, the landscape opens, offering a complete glimpse of the Gulf of Naples with the Phlegrean Islands, the Phlegrean Fields, the Vesuvius and the Mountains Lattari. It is the path of Buttavento, on the Costa Sparaina, which rises on a volcanic cathedral that leads to Candiano, a hamlet of Buonopane, there is a multi-century oak, silent witness of the time it passes. Along this stretch, there are also a number of cellars dug in the soft rock, which highlight the strong interconnection between the natural and the anthropic landscapes. The route ends with the arrival at Buonopane (fraction of Barano of Ischia) and the visit to the Source and the Nitrodi Thermal Complex. Book the excursion

It is a journey into the myth that characterizes the itinerary "Monte Corvo, the Mouth of Typhon"
starting from Panza. A path leading into the stories peasant made of stone houses, ancient water cisterns dug out of tufa, vines, herbs, myrtle and heather but also exotic vegetation such as prickly pears and agaves. Then there is the myth of the island, Tifeo lying, according to legend, in the bowels of Ischia. His tears, as reported by ancient narratives, flow in the thermal waters and - just in Monte Corvo - gave birth to the aqueous vapor. Book the excursion

It is on May 14 the last day of Walking along Paths 2017. Celebration Day for all those who will take part in the trail Serrara-Frassitielli-Falanga –Miscillo summit
that starts from the town of Serrara (at the restaurant level Bracconiere). Going to a wild and fascinating landscape on the west side of the island (Forio), to the wood of Frassitielli, a terrace of thick acacias, in the wood of robinia in the shade of rocks covered with moss, lichen, and wild fennel. Continuing along the path you dive into the wood of Falanga; here reality meets fantasy. In fact, in these chestnut woods you can find the typical holes (the snow dunes) and the shelters excavated in the tuff from Epomeo, because of tectonic settlements (the so-called Stone Houses). The crossing in the forest continues to the Pizzone area, where the sudden lack of vegetation announces the presence of fumaroles, secondary volcanic phenomena, which can be traced across several parts of the island and evidence of volcanic activity still active on our island. Arriving in this area (the Falanga), you begin climbing to the summit of Monte Epomeo. Once arrived, you will proceed in the direction of the suggestive souvenir shop "Miscillo". Book the excursion

Celebrations that do not exclude those who, unlike those who have chosen the first path, choose the path Fiaiano-Piano S.Paolo –Miscillo summit
, starting from horse riding in Fiaiano and climbing Monte Toppo, volcanic area covered by an intense green sea typical of this island side and an synonymous of great floral wealth. On the path that goes back to the valley of Buceto, where the homonymous source is present, the first section is accompanied by the remains of the old aqueduct that pick up the water from the source and carried it to the village of Gelsa (today Ischia Ponte). Due to the strong exposure of this first stretch, the predominant vegetation is typical of Mediterranean scrub, where the fragrant myrtle essences are enriched with the aromas of wild goat and thyme. Then you enter a chestnut wood on the slopes of Monte Trippodi (502 m), until you reach Piano San Paolo, an old fossil beach, witnessing the submerged past of a part of the island. The path continues to the military source of Buceto and begins ascension, through the flora explosions, which will lead to the crest of Mount Epomeo, to reach the highest peak of the island, Punta San Nicola, where there is a hermit excavated in huge mass of green tuff that forms the top itself. The excursion ends with the descent to Fontana and the stop for lunch and the party at Miscillo. Book the excursion

For info Pro Loco Panza +39 081908436 - E-mail This email address is being protected from spambots. You need JavaScript enabled to view it.