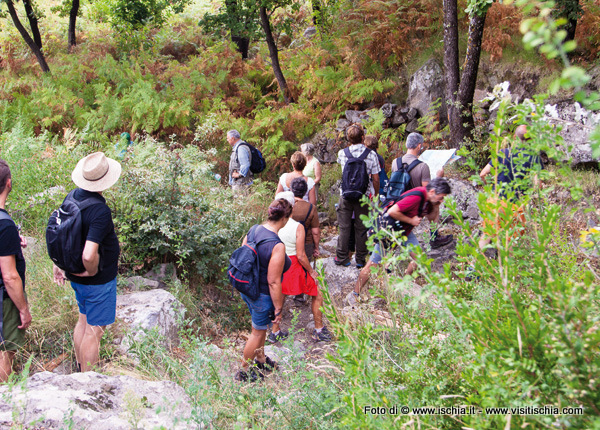 The explosion of colors and scents of this time that envelops the land into one big warm hug, transports us into the middle of spring and makes sure that our senses, from the dormant winter days, wake up and enrichment of the marvels that "the green island" offers. There is no better time of year to bring out the boots, comfortably worn, leave for a moment the coast and into the heart of Ischia.
In a moment you will have the feeling of being transported to another dimension, a timeless place. The close relationship between natural elements, geological, historical and cultural journey of discovery makes the island a way to observe and experience the region on key systemic, highlighting the close relationship between past and present and bringing out the strong local identities perfectly integrated with the environment. In fact, the seismic and volcanic nature of the island of Ischia has influenced over the centuries the stories of local people, forcing them to continuous adaptations to the territory. But the same adaptations by now, have become characteristic features of the territory, which is definitely worth visiting and learning it.
Spring, then, has exploded and we are ready to accept it. Now in its second edition of the event "Walking along trails" was created with the aim of bringing people closer or (islanders or not) to the territory, a necessary condition in order to know, love, and then protect it. The effort and the common purpose of the groups and individuals who promote this event has been and will always be crucial, because if we think about it, things work when in a system there are elements that interact with each other (it is one of the basic lessons of ecology and how nature works!). The Pro Loco of Panza and the island subsection of CAI (Italian Alpine Club), together with the Nemo association, the Amici of Piazza Maio, IPS Telese of Ischia (also very important to the involvement of the school to create identity and belonging in future generations), and other companies who live and love the area and then invite to participate in this moment of discovery and contact with the territory. New this year is that for the last day there will be a big party at Tenuta Crateca in Fango (Forio), where walkers, who come from various locations and people who instead will only take a walk through the vineyards of the estate and enjoy a breathtaking view, will join in a time of sharing and where you can enjoy food and wine.
Below is a brief description of the trails that will be proposed, with the data sheet.
All that remains is to wish you a good read and invite you to participate.
shown below the links to the presentations of paths Walking along trails