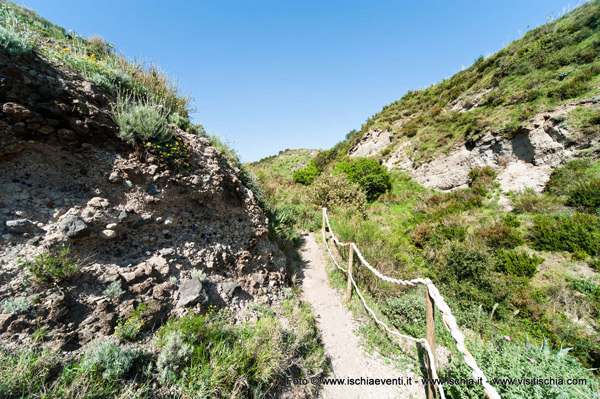 "Walking along the paths" is an event not to be missed
Ischia, island, sun, sea: it is a correct axiom. In addition, it is obvious but simplistic to the green island, which is a true natural laboratory for Biodiversity of which even the most untrained eye cannot have perception. Then "Walking along paths" in Ischia is a greedy appointment to the discovery of a territory which, rightly, is a natural treasure that never ceases to amaze.
It is precisely because the word 'wonder' accompanying every visit.
From Monte Epomeo at 360° you can admire the entire island also noticeable from the outside, but from Mount Vezzi with the rotation of the head you have only the chance to grasp at your right the Port of Ischia and at your left, Sant' Angelo, is something you never would think.
What to say about 'Pizzi Bianchi', witnesses of erosion of wind and water, instant recall to Cappadocia. Breathtaking views, the eye catches the sea, beyond the terraces planted with grapes, only to find themselves in the woods full of chestnut trees and acacias, with an undergrowth full of odors; and even then, the Mediterranean maquis and many brooms that in this period are yellow-colored. Fumaroles scattered along the path between the green tuff and passage for trails where you do not realize immediately that fern is a rare species.
Still, springs, water and life, like the Egyptian green toad, that is the only amphibious set exclusively in Ischia among the three islands in the Gulf, confirming the extraordinary biological diversity that distinguishes it. In addition to the widespread common lizard, but among the reptiles, one can encounter also the snake and, among mammals, along the paths, it is easy to recognize the caves of wild rabbit, not easy to see.
When you glance up you can see many birds, sedentary but many of them are migratory passing through or stopping to winter. Very different landscapes clearly related to the geological and climatic characteristics of the place that is well capture during the different excursions.
Excursions in spring during period of apotheosis of life after winter hibernation, explosion of colors and smells, satisfaction of the senses.
It must be said, also, that the week of "Walking along paths" goes from May18 to 24. I do not know if it is intentional or just a coincidence, but it fits well and responds to the celebration of the World Day of Biodiversity established by UN precisely on May 22, to recall the importance of protecting the extraordinary wealth of all living species on Earth.
Going along paths, admiring, observing, and being surprised of an area that, despite everything, continues to offer so much more. Starting from here to implement a necessary awareness and a turnaround, because our "natural treasure" claims it.
Ida Ferrandino
PhotoGallery

Video slide