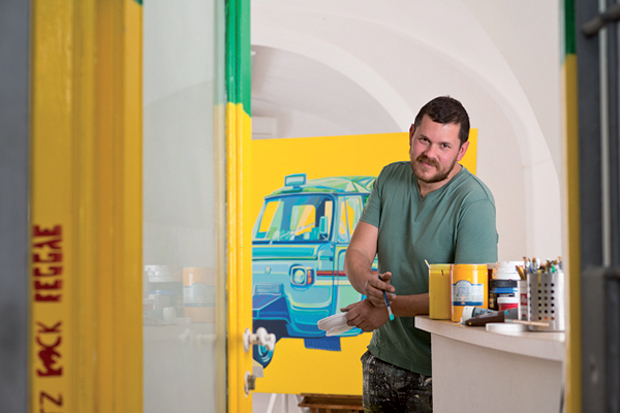 I have to bother a bit of strong loves. Pictorial, that is. Because I like to create a conceptual tunnel under the skin of the visible, but in my image, to try to explain in short - an artist. For a character like Manuel Di Chiara I follow this plot, with the help of our photographer Enzo Rando, who met with him at the atelier in the alley behind the Church of San Gaetano, in Forio.
It was a close and not by chance meeting of talent's made in Ischia, an "unconventional idea and, above all, an infinite passion for color shots (I think about the legendary Enzo postcards...). The images of phototale offer a bit of their elective affinities that I see and that maybe - paradoxically – are not very clear. So be it. In order to introduce the subject of Manuel I start from a minimum list of works and authors, must that i went to pinch around European galleries and museums, and more. That's "The White Boat" by Georges Braque (in London), which is coeval (1906) of "Tugboat on the Seine" by Maurice de Vlaminck (located in Washington). These are mystical glories of Fauvism that will explode with the incomparable palette of Raoul Dufy here is his "Port" of 1908, which I photographed in Berlin); trespassing in the US with George Bellows, whom I know for his masterful paintings on boxing, that struck me to the National Gallery in London with "Men of the Docks" in Manhattan (1912). Observe the sequence of masterpieces by more tha a century ago, evaluate distances and convergences, think of the atmosphere, build a narrative. Add the persuasive echo of the Kinetic Art, Optical Art, and of course the Pop Art.
Then, pause to observe the works by Manuel, in particular those of the series called "Cargo": behind him I see those great masters, the lessons digested and outdated citations, unwanted, but necessary for the understanding of an original and contemporary study.A complex and conscious way to the art, that of Manuel who, by vocation, loves keeping a low profile: he is illustrator, graphic designer, photografer, interior, designer, craftsman, designer, multimaterial painter, investigator of materials and attentive to the eco-compatibility; sculptor, designer and more. And he is always looking for an active contact with the viewer and / or the client, a fleeting moment to be seized even as his work seems to change a detail that is never harmless, exactly when the subject of the same appears simply son of Photorealism or Hyperrealism. Seizing the moment is also inside the thematic leitmotif of Manuel: the "cargo", ships, cranes, ports, outer harbor and boats; and then the machines, wasps and my loved vans, and three small three-wheel motor vehicles; even wheels, motorcycles and engines.
A world in motion, even telluric; slow or fast, almost always devoid of humans, and to stop for a nanosecond before it recovers to move. The last time I wrote about him a year and a half ago, Manuel had been selected from thirtyeight eight colleagues from all over the world to participate in international competition "Romadesignlab", dedicated to eco-design self-produced, with one of his pieces more vibrant, the "Vespa a dondolo di cartone". In that regard: cardboard is recycled and becomes strictly pictorial support or complement of furniture, punched and lightweight, featuring allegory of a philosophy, practical, no frills and curlicues. I still think, as I wrote that Manuel Di Chiara expresses an iconographic power that disapproves effectively contemporaneity to which, by birth, belongs to him.
The present times are
unbearable for massive selfcommunicative, "green" only in theory, but without the collective momentum for real protection of the planet, or solidarity for the suffering humanity, which is the same thing. By contrast Manuel
"declares" his thoughts with the technique of acrylic material, with finishing enamels and pastels, or with fine skill with which uses oil on canvas, in an effervescence of colors which is also a hymn to (my) masters mentioned above. It's great when he lingers in detail, elaborating / changing tangible reality, to create additional space for visionary freedom.
And when he introduces the essential atmosphere of extended and solitary commercial areas of the port areas, including container and lampposts, cranes and chains, outlined by the theatrical backdrop of large cargo ships sailing in the background, and look a bit, also in my marine blood; or of barges apparently motionless on the canals and the central European rivers, in a context of places and sights that make way for human figures, always evoked by virtue of their absence.