Epomeo: path of Hermitage

Serrara Fontana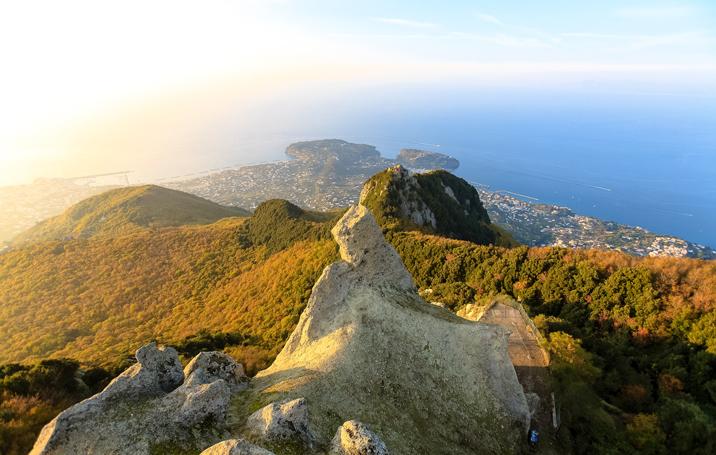 Descrtiption of the path
The route starts near the Bracconiere restaurant in Serrara where, through wild and fascinating scenery on the west side of the island, it is up to the woods of Frassitelli,
a terrace of dense acacia trees. In the forest, the black locust shade in mossy rocks, lichens, and wild fennel. The undergrowth is the realm of wild rabbit that has played and plays a key role in the local cuisine. Arrived at the height of a stone arch, so that by the imagination to travel in space and time, the route goes steeply uphill until you come to a dirt road that leads to Stone Water (huge tufa rock that serves as tank, from which the name). It has now reached the crest of Mount Epomeo, and the route goes up to the highest peak of the island, Punta San Nicola, where there is a hermitage dug in huge mass of green tufa, which is the summit itself. From this point through an old cattle track etched into the rock, which then becomes a mule track, passing through a chestnut, begins the descent that leads us to the square of Fontana.
Info
Duration: 3 h
Difficulty: E
Descent: 400 m
Difference in altitude: 789 m
Development of the trail: 7 Km
Start point: Serrara (near the Cemetery) ore 09:30
Arrival: Fontana (piazza)
Path: Serrara, Bosco dei Frassitelli, Pietra dell'Acqua, Monte Epomeo (Punta San Nicola), Fontana
Equipment: Technical mountain equipment (hiking boots, poles, etc.), hat, sunglasses, water.
In the neighbourhood
Facilities

Reachable by car