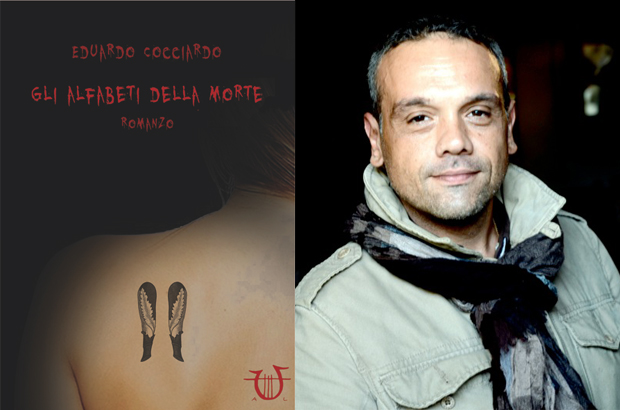 It might seem strange that an author/ actor originally comedian is at some point of his career to write noir stories, in colors even horror. But in my case the thing is easily explained: on one hand it is a clear tribute to a genre that I have loved since adolescent, on the other, I have always said that comedy and noir end for coinciding, having both languages the aim to exorcise the man's greatest fears.
And then there's Ischia. And in particular Forio. Territories of beauty, of course, but since ancient times strongly tied to horizon of the unknown: we think of the Greekroman mythology that localized on our island one of the main entrances to Hades, or giant Typhon, mythological character who has a central role in my novel. And thus it was born "Gli Alfabeti della Morte". Homage due to my origins, and thus to my land. To what was a time, and today is no longer. Behind the robe noir, it can
see the architecture of the historical novel, because the story is set in two close times levels, but hopelessly separated. The year1948, the immediate post-war period, with its pile of rubble and hopes, and 1956, with the start of a great process of recovery, which already showed the contradictions that would lead to limping today Italy. Telling Forio, Ischia, Naples and Italy immediately after the war also meant to link to world events that have marked our recent history. And it is here that came into play my little, big Forio. It is from there that radiates to evoke the history of the world. From its churches. Its alleys. Its courtyards. From its cellars, attended by political refugees as Luigi Collado speaking, fishermen, its Cuba as a new promised land. Since its Caffè Internazionale, and Maria Senese, the caffettera, which the wiry little woman who thanks to her incredible charisma attracted to its tables artists and intellectuals of the time (from Capote to Auden, through German and Swiss painters and sculptors who knew
the wild island before its tourist metamorphosis).That Forio become a conjunction of history and of the world, perfect point of synthesis of changes that would lead to the world we know today. I wanted to tell my native island in an unusual way, making it protagonist of a mystery story, widening in concentric circles, making a kind of metaphor for the cruel mechanisms that have started to adjust the social life throughout the civilized world from the post-war period to the present day. Among allegorical references, ideological and philosophical, the plot, however complex, is revealed as a perfect excuse to tell something else. The protagonist is Armando Santoro, a former Commissioner of Public Safety remanded in Poggioreale on suspicion of killing his wife. He was arrested in 1948, shortly after settling his more difficult case: the crimes of the tattoo artist, a serial killer who had brutally murdered the matriarchs of the Camorra, the women of great power that held up, thanks to their charisma and their ability diplomatic, whole criminal regiments, in a complex system of conflicts and alliances with other families
and representatives of the state and justice. At that time, the
Armando's daughter, Sonia, had ended up marrying a young scion of an important family of the system, whose mother had
been the first victim of the tattoo artist. When in 1956 Armando gets out of prison, doesn't have a life any more. No colleague has remained faithful. No friends. The relationship with her daughter had obviously broken by time. Alone and without reference points, Armando decides to follow the advice of a young monk met in prison: going for some time on the island of Ischia, the only place where he would find peace. But soon we discover that in the small picturesque Forio awaits him an even greater mystery. So, the tattoo artist and Ischia enigma, start running on two tracks that often intersect, in a continuous and passionate bickering between present and past.
Il romanzo "Gli Alfabeti della Morte" sarà presentato giovedì 23 giugno alle ore 19 presso il Bar Maria di Forio d'Ischia. Relatore: Ciro Cenatiempo. Interverrà l'attore Leonardo Bilardi. Saranno presenti l'autore e l'editore Fabio Dessole.