From Serrara to Fango

Serrara Fontana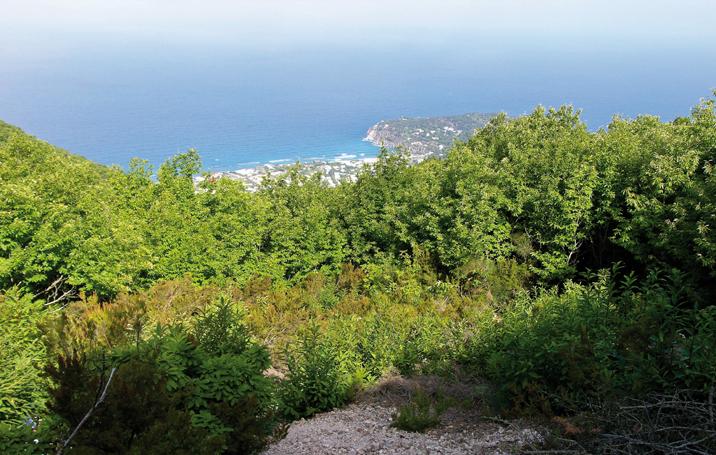 Description of the trail
It starts from Serrara (at the Bracconiere restaurant) and continues to set out into a wild and fascinating landscape on the west side of the island (Forio), until getting to the woods of Frassitielli, a terrace of dense acacia trees. In the forest the locust trees shade with the rocks covered
with moss, lichens, and wild fennel. Continuing along the trail, you dive into the woods Falanga; here the reality meets fantasy. In fact, in this forest of chestnut trees you can find the typical hole (the mass of snow) and shelters carved into blocks of tufa precipitates from Epomeo, as a result of tectonic subsidence (the so-called Houses of Stone). The journey continues through the woods to the village Pizzone, where the sudden lack of vegetation announces the presence of fumaroles, secondary volcanic phenomena traceable in different areas of the island and the testimony of a still active volcanic activity on our island. The valley is again surrounded by a forest, this time of oaks and heather in Mediterranean style and leads to Via Crateca locations in Fango, also known as the 'via dei carri' that has played an important role in the production and trade of island alum in the past.
Maps
Info
Duration: 4 h
Difficulty: E/EE
Difference in altitude: 100 m
Descent: 500 m
Maximum altitude: 600 m
Development of the trail: 7 Km
Start: Serrara (near the cemetery) at 09.30
Arrival: Fango (at Chiesa di San Giuseppe)
Trail: Serrara, Bosco dei Frassitelli, Bosco della Falanga (Case di Pietra), Pizzone, Via Crateca, stopover in a farmhouse, Fango
Equipment: trekking shoes and clothing, water
In the neighbourhood
Facilities

Reachable by car