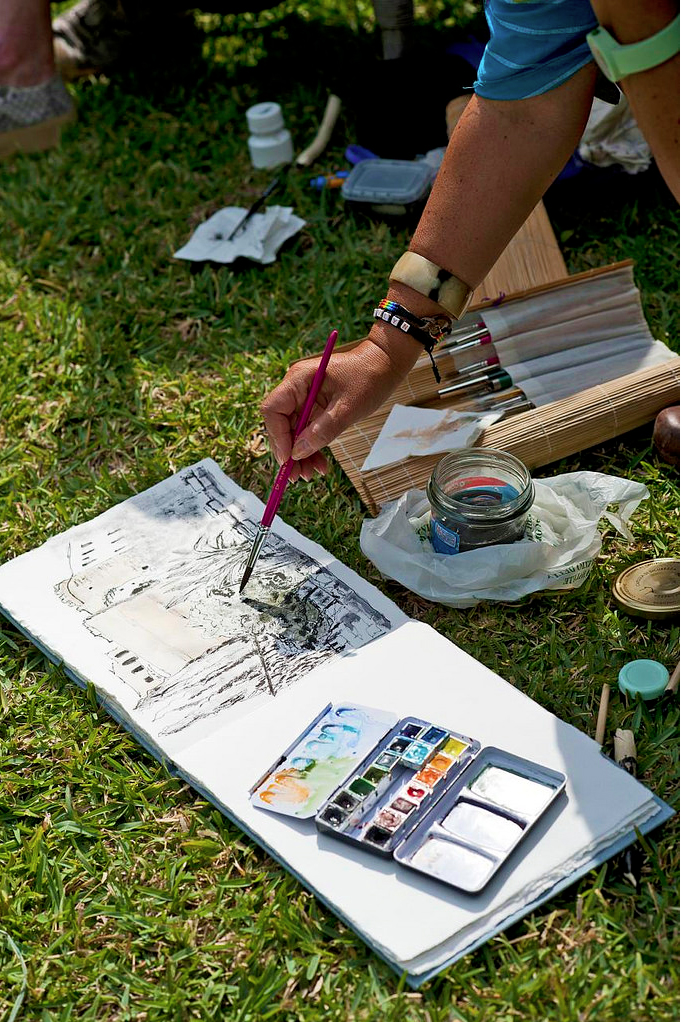 "On Assignment". Reportage from the island of Ischia
October 4-8 2017
For the third year running, forty designers from all over the world find themselves in Ischia for drafting a collective reportage on the island.
The special guest is Gabriel Campanario, Seattle Times' illustrator and journalist with the column "Seattle Sketcher" and founder in 2007 of Urban Sketchers: an association founded with the aim of spreading the educational value and documentation of the real design which in ten years has involved thousands of people around the world. Their drawn reportages are shared networked, on the printed page and by live encounters like this in Ischia.
Participants will be led by Gabriel Campanario, Simo Capecchi (illustrator of Naples and collaborator of Dove magazine) and by Caroline Peyron (French artist resident in Naples). Also with them are Cristina Portolano (Quasi Signorina, 2016) and Franco Lancio (graphic designer and art director) who have a large installation: Brunone, or the Sperm Whale (in collaboration with Oceanomare Delphis). Their works will be exhibited for four days since Wednesday October 4 at 7.00 pm in the Church of the Immaculate Conception at the Aragonese Castle, workshop site.
Designers coming from the United States, Canada, Australia, France, Spain, Germany, Sweden, Switzerland, Spain, Belgium, Luxemburg and Italy will meet fishermen, archaeologists, artists and farmers and visit campsites, spas, gardens, ateliers and Ischitan associations , not least the earthquake zone.
On Saturday, October 7, 19:00, the audience is invited to the Aragonese Castle to see the outcome of their work on display in the evening only.
On Sunday October 8th at 10.00pm in Ischia Ponte in front of the Palazzo dell'Orologio part of the reportage will be published in a real newspaper, "The Ischia Sketcher", distributed in limited edition. Always on Sunday, the Negombo will host urban sketches and other designers who want to reach them throughout the day. Info: www.inviaggiocoltaccuino.com / www.urbansketchers.org