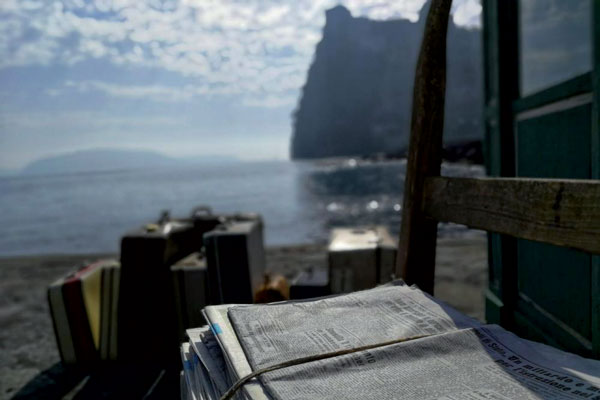 When it comes to Italian islands, everyone has heard of Capri, but Ischia has a more low-key reputation. I hadn't heard of Ischia until I read Elena Ferrante's incredible 'My Brilliant Friend' a few years ago. In the book, Ischia is narrator Lenu's figurative and literal escape from the violent, claustrophobic Naples neighbourhood she calls home, and her vivid descriptions made me determined to visit this small island, an hour away by boat from Naples, for myself. I came here in search of Elena Ferrante but discovered so much more. Although with only one day on the island, there was no time to linger.
In Ferrante's novel Lenu is delighted by the beach and fascinated by the "living people, covered in mud" on Maronti Beach. She has never seen anything like the wellness treatments – facilitated by the volcanic thermals and soil – that have been done there for thousands of years and still are to this day.
I was shown the beach by Alessandro Mattera of Platypus Tours, who runs an Elena Ferrante themed tour of the island that I was keen to experience while I was here. Mattera took me to Barano, Maronti Beach and walked me down the alleyway that connects white-washed, two-storey houses to the beach, identified as where Ferrante's autobiographical character Lenu would have stayed. Old churches, cobbled paths, and houses that don't seem to have changed for decades – it was all just as charming as in the books. Ischia locations have been used during filming for the upcoming TV adaptation of the book, and there will no doubt be a surge of interest once viewers see how beautiful it looks on screen.
But rewind a few hours and my day began with coffee at Giardini la Mortella, the evolving garden that Susanna Walton created, and which celebrates its 60th anniversary this year. Laurence Olivier and Vivien Leigh both stayed here as guests and you can see why. With climbing paths and small areas filled with rare and exotic plants, culminating in epic views as you climb, the gardens feel like a hidden gem, despite now being open to the public.
From there I whizzed around on a whistle-stop tour – of the Chiesa del Soccorso, the village of Forio, the succulent-filled Giardini Ravino (including a quick stop-off for a cactus cocktail). Everywhere I went there were #nofilter Instagrammable views – views seen while eating homemade gelato at the San Montano Hotel, views of the village of St Angelo (beloved by Angela Merkel) from the village of Serrara and views out on to the water from Giardino Eden, a restaurant reached by boat, where I had a delicious seafood carpaccio and a glass of Ischian wine, made from grapes grown on the island's vineyards. Could you ever get tired of the views? As I was due back in Naples the following day, sadly I didn't have time to find out.
But luckily, before my ferry the next morning, I stayed in Il Monastero, the 16th century castello with its own private island. The calming, mindful effect of the sounds of waves is perhaps taken for granted when you live near the sea, but as a land-locked Londoner, it was a rare luxury to sit on the terrace of my balcony with elevated views of the sea below, colourful fishing boats, and charming cafes. From its garden I watched the sunset, although the famed 'green flash' didn't happen this time. But that's just another reason to return.