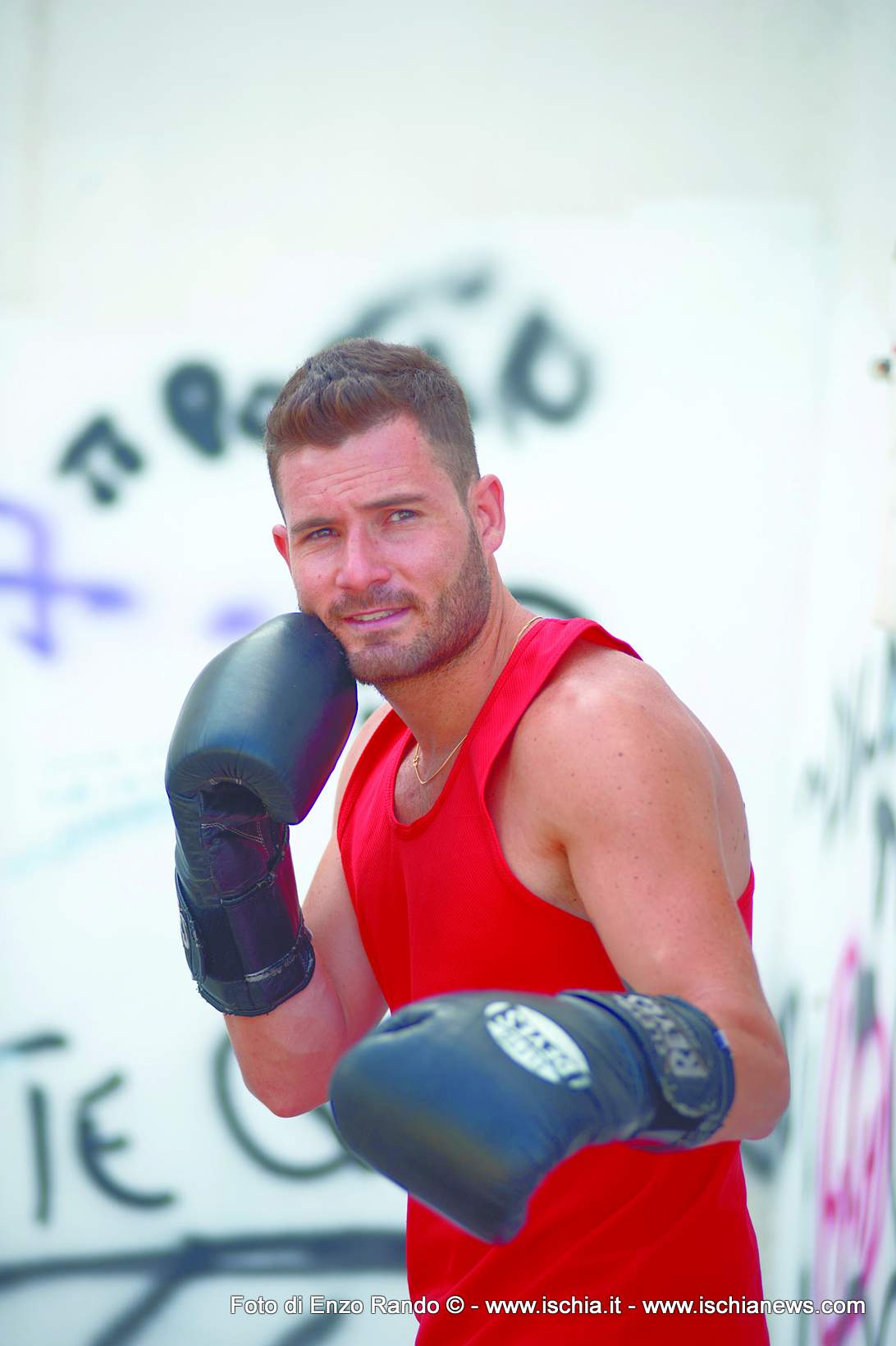 I come from Forio, but it has been a couple of years that I'm living in a village in the province of Venice to work as office responsible for the national Post Office.
I have a wonderful family, my parents Adriana and Salvatore, and my sister Valeria: my first fans! What type of fans?: for nearly 10 years I have been cultivating my passion for combat sports; and now, specifically, I follow my only love, boxing. It all started when I was 17 and I set foot in a gym where they practiced Kickboxing, specialty in which you pull both fists and kicks. After about a year since my first training session I made my debut between the ropes at the Italian championships in Rimini: first match and first defeat to Ko.
I was not discouraged. I held out and I continued this discipline where I graduated, for various times and in different series, Italian champion. But alongside it was rising my passion for boxing. In Denovellis gym of Naples, I was born as a boxer.
After a few years I have made the decision to practice boxing, leaning on Ischia from Scotti-Lauro team headed by their masters Giovangiuseppe Scotti and Giuseppe Lauro. I continued my training on the island, but soon came the notice of commencement to the national Post Office - with destination Thiene in province of Vicenza - with a vertical part-time employment contract.
I then worked in the North for the firstfifteen days of each month, then went back to my Ischia. Before founding accommodation, I firstly found a gym and to welcome me was the "ASD Mai Domi" with President Fulvio Marchesini: their help, for my adventure, was crucial. They helped me in what for me was a very delicate moment: it was not easy to leave my island and go to a place where basically you are considered a "Southerner" (terrone) but that land also gave me my greatest sporting satisfaction.

After six months and a few matches with «Mai Domi» I changed my destination, this time in the province of Venice, to be precise in Santo Stino of Livenza, a very small town. And it is here, after leaving my athletic card with «Mai Domi» I met master Paolo Bonifacio (who is now my first coach).
For four months he picked me up and took me back home only to get me on the train, because unfortunately I didn't have a car, and villages are poorly connected in that area. He was my coach, and with the ongoing support of my team on the island I twice won the championship in Veneto, once in the senior class (class wearing a helmet) and once in the elite category that competes without helmet and so you can also play for a the place for your country, the Olympic Boxing. Moreover, as good Southerner I represented the Veneto Italians in 2015, unfortunately losing at the first match.

From there, however, I officially started my new adventure with the "Sport Village Santamonica", company run by Paolo Bonifacio and Davide Giacomini, my current coaches. Last June I decided to attend the course for technical aspirant, to have a teaching qualification, although the coaching road will be difficult and full of obstacles especially on our island. For me, boxing has become my all, in a situation where the distance from Ischia and my suffering weighs a lot.
But without Boxing I would feel lost: it was my social revenge, I could speak my mind in a very tricky area for us in the south.

Sport was an important point to improve myself as a man in real life. Sports that I love and
hate at the same time, because Boxing requires many sacrifices, motivation and self-esteem: believing in yourself is sometimes difficult and often it is confused with the bravado.
In Veneto as an athlete I have many possibilities but to stay away from our island is not simple, and Boxing helps me to get around this lack, hoping to return to an Ischitan office and dream of opening a gym in my town sharing with those who want my passion for boxing. This journey made me understand many things, today I can appreciate the time spent with my family and my friends, and reflect on the treasure we have in our island.

For the future, my dream over opening of a gymnasium, would establish myself in an important stage as that of absolute championships.
But in any case I'm glad I got the opportunity to realize my aspirations, by returning to the sender ... received punches, with interest; and to have believed in something: a life without love is an empty life!
di Antonio Calise