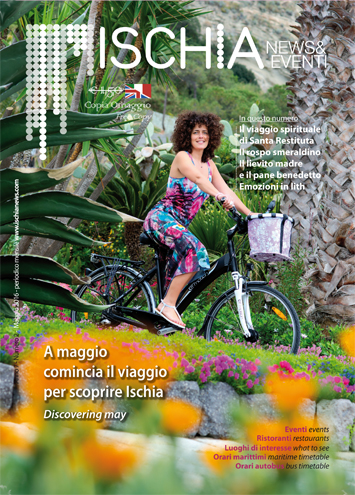 Is marked in monthly "outputs". It is mainly an emotional magazine dedicated to tourists, but not only to them. So
I will only evoke a simple rhyme, apparently trivial, that between May and Way. Because if we think even to the moon, "crescent" in this case, and the shape of a sickle, we can not ignore
that, thanks to its curvature, evokes a hull, the Way of a boat. It was a symbol of a space trip in the Egyptian iconography. So we admire the moon on clear nights in Ischia in this period, becoming the evocative instrument of business to which it is impossible to escape: better way to find the discovery of the green island, fragrant, colorful, hot now; travelling in a dense microcosm of surprises. A route, for example, of the charm of one of the many festivities that mark the seasons in dramatic fashion, like that one of Santa Restituta in Lacco Ameno, recounted in great detail by Graziano Petrucci. From here the route is enriched by meetings, mixing sacred and profane:with Pierina and Don Angelo, who prepare the bread at home with yeast. Then, with tasty story of an emerging chef, Angelo Pesce. The famous writer Andrej Longo, who gave us a preview of his new novel. With a photography master, Gino Di Meglio, ready to reveal the secrets of his work. And with a curiosity of nature: the Golden Toad, which Isabella Marino has captured for us with priceless irony.
All rights reserved
Browse on line the May issue 2016