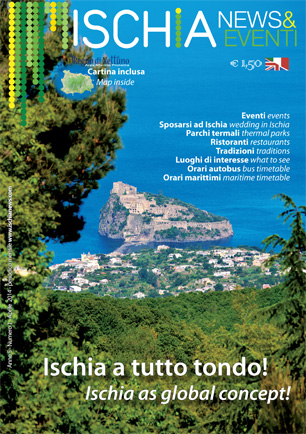 With the first rays of spring sunshine and on the occasion of Easter we are pleased to inaugurate the 2014 season of the magazine Ischia News & Eventi, always in Italian -English bilingual version. This first issue of the fifth edition touches upon many different topics from Easter to the islanders as a tribute to the artistic character Giacinto Lavitrano.
The Passover told by two islands, Ischia and Procida. Ischia with the original sacred drama dedicated to the passion and death of Jesus, the representation was designed and built by St. Francesco from Assisi in the distant 1111 and staged in the streets of Forio since 1982 thanks to an initiative of a group of young volunteers; and Procida with its Mysteries, the Dead Christ parading in the procession of Good Friday is the very soul of Procida, the quintessential of the man's personal and intimate pain.
How not to submit a hymn to the now late spring, with the warm scents of the earth, roots, grass, sea, buds that come together in a single essence and stimulate our imagination , memories , the desire to live in a dimension that is not chaotic and exhausting daily survival.
It does not even miss the character of the island culture which for this number is Giacinto Lavitrano, and re-propose the creations is a good tribute to his memory and his music for granted without giving the magnitude, or on the contrary, look at him with disdain, but finding good reasons to rediscover the original voice of a narrator of his time.
The inevitable tribute to the hot springs of Ischia, such as the nymphs of Nitrodi and the recent
discovery of the ancient mouths carved into the stone.
In this first issue we propose a new recipe section, 'homemade', where are the same islanders to offer unique dishes and tempting straight from the home.
Other new features include the section of the trails with detailed descriptions about the most beautiful and natural stretches of the fascinating green island!
Tradition and crafts, main features of the island community found in the clothes of Bettina with her artistic form of "wearable art".
Among the columns present, the wedding on the island with dream location to crown the love of couples who want to pronounce the fateful 'I do'.
Inevitable as always our rich calendar of events with so many important events to be entered on the agenda of islanders and tourists exploring the beautiful Ischia.
In short, a guide should not miss to have in your pocket all the useful information about Ischia ...as global concept!
Ischia News ed Eventi April 2014 issue