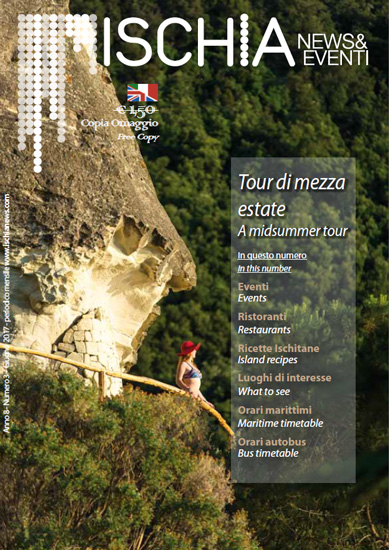 June is the month that the island of Ischia changes into a real movie set.
The Aragonese Castle becomes so 'glocal', an international universe of artists, actors and registers, a film of coexistence, oddities and wonders.
When one comes to the island, wonders how it was in the past illuminated by the still-current sunshine scenes, in which land and magic, nowadays, encourage the exchange of jokes and pastimes in the same way as Hollywood stars.


Ischia in June is also a tradition and culture with the celebration of San Vito, patron of Forio that recalls a singular fermentation during the celebration of rites and celebrations while the huge and compact crowd flooding the streets does not go unnoticed. It is on June 15, the day of the death of young Vito, that the feeling of devotion can be felt as they walk along the streets of the party, and flow over the sides the shows of nougat and candy.
In June, we want to talk about sea and marine ecology thanks to the collaboration of the zoological Anton Dohrn, which deals with integrated taxonomy of marine organisms and identifying marine organisms. For the collection of organisms, measurement of environmental factors and on-site experimentation, the technical and scientific staff of the Villa Dohrn Center mainly uses underwater scientific diving techniques.
Just like in a movie, the island has many scenes and performs several roles in this June that opens the summer season.
Ischia is all this and much more...
© RIPRODUZIONE RISERVATA
Browse on line Ischia News ed Eventi of June 2017