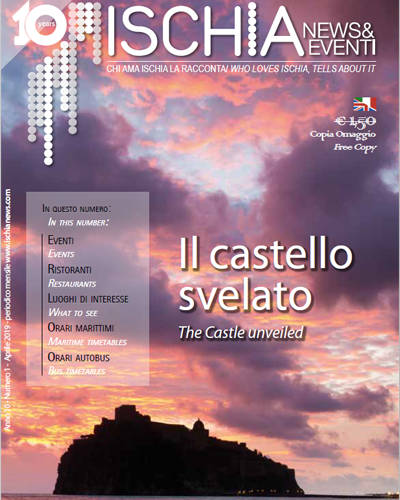 Come on 10!
BY CIRO CENATIEMPO
10 years, wow, what a force! "Ischianews & eventi", our newspaper is ten years old. Best wishes! Did you know that Ten is the atomic number of the Neon, the famous rare and noble gas used - perhaps not for much longer - for lamps?
Ten is linked to a thousand other evocations, facts and metaphors that will come to mind in a blink of an eye: divine rules and divine soccer players; successes in the report card and lucky numbers. They are all high school numbers. But that very light gas that has Ten in itself, with its reddish tones that characterizes the old-fashioned advertising signs, appears to me the perfect image to describe our commitment.
Let's try to give light to the land in the sea we love: Ischia. We never stop. And we aim to innovate. After all, "Neon" comes from the ancient Greek "neo", and means "new". We have a soul rooted in memory and the adrenaline that energizes new projects and changes. Let's start with the contents that, from this issue onwards, will be monothematic and, as always, full of useful information for tourists, and not only, of course. It is no coincidence that we start with the Castle: it is the crossroads of modern narration. And I mean, for modern, an epic started in the 1400s, and declined in every expressive form that is human: graphics, painting, photography, films, stories, novels, posts, videos, comments, etc. It is the global icon that contains us: it reminds us of an emblematic fresco from the second half of the sixteenth century that adorns the walls in the second room on the first floor of Torre Guevara and ... these pages. In symbolic terms it is also the beginning of the competition that we launch to readers, through the social media, entitled "Who loves Ischia tells about it"" We look forward to sharing it. Follow us!
© RIPRODUZIONE RISERVATA
Sfoglia on line Ischia News ed Eventi of April 2019