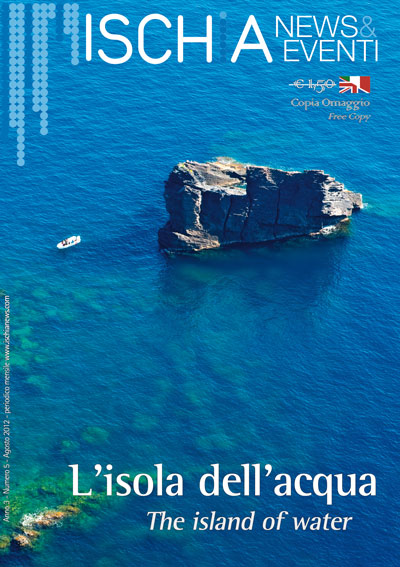 The issue of Ischia News e Eventi edition August 2012 magazine for tourist information on the island of Ischia.
Everything comes from water, is from the wealth of this priceless natural element that comes life. Ischia has just so much water, it flows in abundance from the soil, warm and rich in minerals that gives this land lush vegetation and unique therapeutic properties. The water surrounds the coast to 51.2 km, land and sea are born from the marriage of fine sandy beaches, secluded bays surrounded by cliffs overlooking the sea, reachable only by sea, unique color contrasts ranging from green to turquoise sea. A such paradise must be first of all protected from attacks of man, and then lived in all its beauty. It is no coincidence that a holiday in Ischia can last a month living each day unique emotions!
On a similar stage moving men, in harmony with nature, helping to enrich what Nature has given us. It is the spirit of this land through its best men we want to tell every month, guided our reader to the paths that lead to the summit of Mount Epomeo, thermal parks of Vagnitiello and Eden and the estate of St. Giuseppe, the Ravino Gardens, up to the distant but near Ponza, our beloved cousin, not neglecting the classical tradition with the feast of St. Alexander and sport club of Panza. For three years we tell the island, but we can go on forever. The newspaper goes on its way, we strive to be better on our Territory, on the cover of this month the nave rock, cleverly incorporated in the shots of our fond Photographer Enzo Rando, one of the best landscape photographers that the island has ever had, not to mention the significant contribution of our entire editing and of Our and loyal writers to whom we send our ever deepening gratitude for this wonderful product.