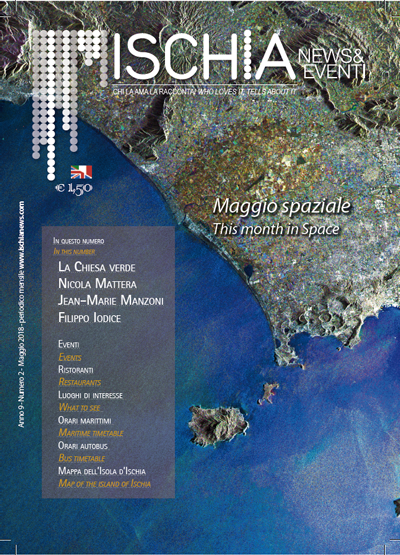 Space May
Spring has begun in Ischia, indeed the island has already savored the first warm summer thanks to a temperature that has heated not only the body but also the spirit!
In Ischia you can breathe an air of rebirth and positivity with an almost early summer!
In the May issue we will accompany our tourists to discover the green tuff church of San Ciro, with its clear and fresh water, always a refreshment for foreign travelers during the classic ascents to Epomeo, the water of San Ciro can be drunk, even today, from the fountain placed outside the seventeenth-century church.
From one monument to another, we will rediscover the Aragonese Castle, a mirror, a distant relationship of an island to another island. Those who visit the Castle penetrate with absurd thirst for possession a distant identity, which is enough in its distance.
.
And speaking of distances, we can not forget the art of kinetic in space, the artistic research of Jean-Marie Manzoni that fascinates with elective affinities, because it frequents the infinite spaces of a vague, original and, by statute, wandering area of border, which is a sort of where almost impossible that enchants.
And space is also what is outside of us, as Philip Iodice explains, a space that will allow us to make our land of Ischia flourish.
Space is also that at sea, infinite, ready to welcome this year the Italian Sailing Championships of high seas that from 19 to 23 June mark the return of the great sail in the waters of the island of Ischia.
Our guide will not fail in this issue of practical advice on a 'typical' day in Ischia and of course the very rich calendar of events!
All ready to give, therefore, the welcome to the new tourist season on the most fascinating island of the Gulf of Naples!
See you in Ischia!
© ALL RIGHTS RESERVED
Browse online Ischia News ed Eventi of May 2018