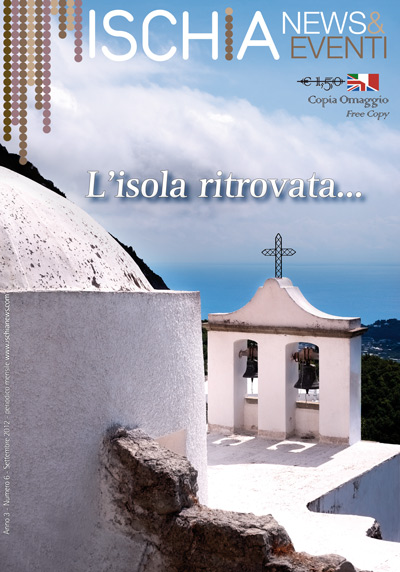 This month we have outdone ourselves, a small editing like ours, which aims to support worthy initiatives on the island of Ischia, had to sustain the wonderful initiative, now in its fifth edition produced by the Pro Loco of Panza, scheduled from September16 to 18 on the island of Ischia. To give support to the event, we have created a supplement to the September issue of 64 pages that will be distributed with the magazine, titled 'Visiting Wineries', with articles about wineries and activities covered by the event, and the three paths restored from the Pro Loco: the Pelara way, Monte di Panza and the path of the fumaroles.
TMany events of September worthy of attention, in addition to this well-told by Mazzella, Gianluca tells us of a now classic event in September Ischia, 'Pe Terre Assaje luntane, in Ischia from the 14 to 16 of September and island with view, a walk along the most beautiful views of the island. Very interesting always the classic and traditional celebrations of San Giovan Giuseppe, Santa Maria al Monte and San Michele Arcangelo, the award-winning bookshop Mattera, the vintage, the source of the Nymphs Nitrodi and the famous Giardini Poseidon.
We are approaching the end of the third year of operation, the newspaper continues its journey, we strive to promote Our Territory on the cover this month the church of Santa Maria al Monte that looks Mare Nostrum, skillfully taken in the shots of our fond Photographer Enzo Rando, one of the best landscape photographers that the island has ever had, not to mention the significant contribution of Our entire editorial staff, of our director and Our loyal employees, thanking them for this wonderful product.
Ischia News ed Eventi September 2012 issue
Ischia News and Events Visiting Wineries supplement to the September issu