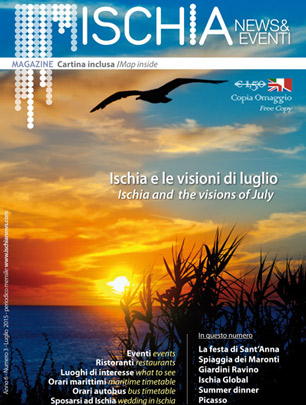 July to Ischia inaugurates the summer season thanks to the many initiatives and events on the green island. On the occasion of the Ischia Global Fest, the island fills with the scent of internationalization thanks to the many actors and VIPs who live there. Days more long and sunny of a summer heat provide an experience unique in the wonderful thermal parks always preferred by tourists and islanders. In this July issue we want to offer the tourist a broad view of Ischia, charming summer destination for holidays and pleasure-loving location.
Ample space dedicated to the tradition of the feast of St. Anne with the parade of allegorical floats now in its 83th edition, through the wonder of the lush flora of Ravino Gardens, a botanical park where there is a little of everything. Not least the beautiful Eden Garden, an enchanting place where feelings e are transformed into emotions and the and the magical tribe of Maronti where every grain of sand is a true story, a myth and a dream together, for thousands years, and those who dare to doubt it is just one dirty infidel to garrotte instantly, then the peaceful and quiet park O'Vagnitiello, a small park, a kingdom of harmony and peace, a place of unparalleled beauty is hidden in a secret place on the island of Ischia.
For tourists that enjoy being at the top we cannot advise them to visit the Picasso saloon where dreams come true...
To know what is happening, where to go and what to live on Ischia, without losing anything, in paperback form since July 4, Ischia News.